DFI has been working on the Ukraine crisis in recent weeks. We are advocating both for support for refugees with disabilities arriving in Ireland, and for Ireland to provide support to those people with disabilities who have remained in Ukraine. We have raised these issues with several Ministers, and met with Ministers Rabbitte and O'Gorman on Monday, along with other disability organisations. We are also working with our European colleagues in the European Disability Forum (EDF) and the European Association of Service providers for Persons with Disabilities to see how we can provide support to Ukrainians with disabilities.
Yesterday we held a meeting with our members and representatives of the HSE and EDF, where we heard more about the situation in Ukraine and bordering countries, and about the HSE's ongoing preparation for receiving disabled Ukrainians. We also heard from members including Polio Survivors Ireland, MS Ireland, Epilepsy Ireland and Vantastic, on their own work on Ukraine and questions they had for the HSE. DFI will also be engaging with Local Authorities and the Public Participation Networks as preparations begin at county level. We'll keep members updated about this ongoing work. Please drop a line to info@disability-federation.ie if you'd like to be know more about this work or share you own updates.
Information for Ukrainians Arriving into Ireland
If you arrive at Dublin airport, please notify officers at Passport Control that you are entering the country under the EU Temporary Protection Directive. You will then be brought to a reception area whereby officials from the Irish Department of Justice will go through the next steps and will discuss through your needs for accommodation, social welfare supports, employment, education and healthcare. Arrangements are being put in place for people who arrive in one of Ireland's other airports or seaports.
Ukrainian nationals arriving in Ireland will be able to get health care services from the HSE including access to GPs, community care and hospital or emergency care. Ukrainian nationals will be able to get the same health services as people who are already living here and will be able to apply for a medical card. The HSE is making arrangements for these services to be provided. People can get up to date information about accessing health services on the HSE website. This page will be updated often and there is information in English, Ukrainian and Russian languages.

Recruitment and Retention – Key Considerations and Risks Webinar
As requested by DFI members we are delighted to announce a webinar focused on recruitment and retention, in collaboration with our Strategic HR Partners, Adare Human Resource Management who are the leading experts in Employment Law, Industrial Relations and best practice Human Resource Management.
This will take place on Wednesday 13th April from 12:00-13:00pm and will guide attendees to identify what could potentially cause challenges in recruiting and retaining key employees and highlight actions they can take to improve. We know high employee turnover costs businesses 2 – 3 times the gross annual salary of the employee who left so getting this right will save time and money.
Why you should join this webinar? We will be discussing:
•            What is recruitment and retention
•            Latest trends in Ireland
•            How should retention be measured
•            Why people leave
•            Actions Organisations can take to improve employee retention
•            How best to prioritise actions for small, medium and large                   organisations
DFI Policy Updates
It has been busy month so far for the DFI policy team. Some highlights include delivering UN CRPD training to Kerry County Council staff and continuing to actively participate in the Disability Participation and Consultation Network, including work to shape this new network and a consultation on the implementation plan for the new Housing strategy. We participated in the stakeholder meetings of the Commission on Taxation and Welfare, presented on poverty and cost of disability to the UN Committee on Economic, Social and Cultural Rights, participated in a meeting hosted by the EU Commission on Ireland's National Reform Programme, and advocated at the Department of Social Protection's quarterly Disability Consultative Forum. We also met Minister Peter Burke along with IWA to discuss their campaign for increased wheelchair liveable housing, as well as ongoing Oireachtas work including meetings with Sinn Féin on children's services and preparing for an Oireachtas Disability Group meeting which will take place tomorrow.
If you'd like more updates or detail on any of these areas of work just drop a line to fleachtaphelan@disability-federation.ie and we can share more information.
Disability Matters Report on Independent Living and UN CRPD
We were delighted to see that the Oireachtas Disability Matters Committee recently published a report on 'Ensuring Independent Living and the United Nations Convention on the Rights of Persons with Disabilities'. It has been a busy few weeks so we've not had time to analyse it in depth yet, but we were pleased to see that DFI are quoted in the report. Many of our long-standing asks and policy priorities, including on housing, an adequate standard of living, cost of disability, independent living, UN CRPD implementation and access to support and health services are included in the report. We will share our analysis of the report with you once we have it, but please also be in touch with your own comments on it.
Updates for Members
Insurance
DFI is continuing to support organisations explore better options for their services through broker company ILK Group. For those interested in securing better rates of insurance please contact Cathy McGrath cathymcgrath@disability-federation.ie before March 31st 2022.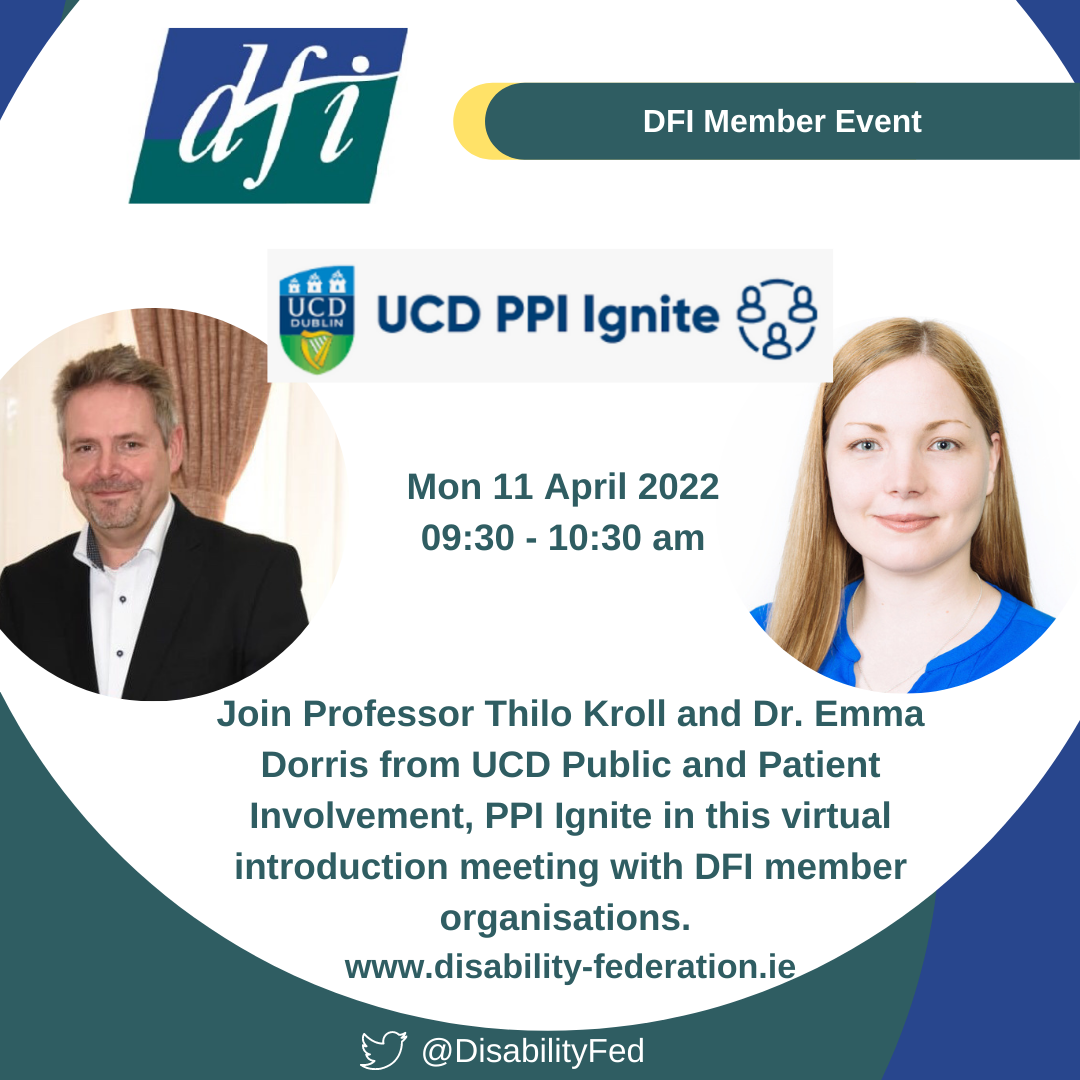 UCD PPI Ignite
UCD PPI Ignite have small seed funding available for relevant organisations under the theme 'Equality of opportunity for public and patient involvement in research'. DFI is bringing together UCD PPI Ignite to meet member organisations on 11 April 2022.
For any queries contact Cathy McGrath at cathymcgrath@disability-federation.ie / 0863847440

Improving Quality Standard Workshop
Members can register to attend the online "Implementing the Improving Quality (IQ) Standard" Workshop which will take place on 31st March from 10am – 12:00 noon. For more information on this event or the Improving Quality Standard please contact dermotodonnell@disability-federation.ie.
Member Spotlight
Down Syndrome Ireland 
DFI would like to highlight the evidence of unmet needs as gathered by member organisation Down Syndrome Ireland in this recently launched report. This is a good example of advocacy in action. If you would like to share your organisation work, or reflect together on how to gather such evidence from your own membership , get in touch with us today by emailing info@disability-federation.ie.
Mental Health Reform
MHR is celebrating its 10th anniversary this year by hosting a half-day hybrid conference. This conference will explore the biggest mental health challenges facing Ireland today, and the opportunities for change. Attendees will hear from leaders, policy-makers and activists who will discuss key developments in mental health and aspirations for the future. Through live panel discussions, the conference will present a range of focused subjects to provoke debate and stimulate action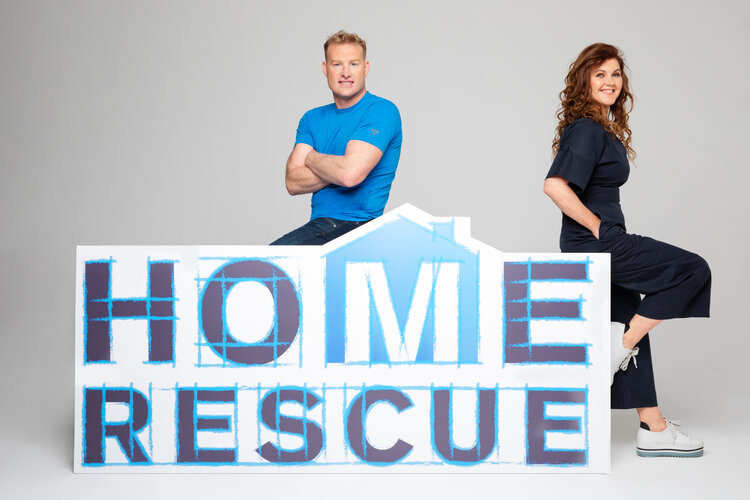 RTÉ's Home Rescue
The latest series of Home Rescue is calling out for contestants who want to curb their clutter and revamp their homes with some help from architect and designer Roisin Murphy and builder Peter Finn.
During five previous series of Home Rescue, Róisín and Peter have helped Dubliner Martin, who had been sleeping in his living room, tackle his mountain of clutter. They also lent their talents to designing a she-shed in Tullamore for teenager Moira, who lives with autism and is a fitness fanatic, to train in.
Another episode saw the team come to the rescue of the irrepressible Mairead who came through a battle with facial cancer, underwent massive surgery and lost an eye to save her life. She now sees the world in 2D and until she met the team, she thought her dream of fixing up her home was done.
If you're keen to have Roisin and Peter sort out your clutter and size up your home for a new look then you can apply here.