July Update 
Welcome to your July Member Update.
We have an update from our recent AGM and topical session on the Transfer of Functions to DCEDIY.
In our Pre-Budget-Submission launched on 29 June, we are calling on the Government to close the gap and invest in people with disabilities.  
We have two training opportunities coming up from the DFI self-advocacy programme.
We have some updates on the work of the Dialogue Forum, the launch of the Housing Implementation Plan and a Department Stakeholder event on Energy Poverty.
We share an update and a campaign thank you for 3,300 emails (and counting) to TDs and Senators asking them to take action on the crisis affecting services for disabled people.
We invite you to save the date for #MakeWayDay23 on Friday 22 September.
In this month's Member Spotlight we feature the Neurological Alliance of Ireland. 
Member Spotlight
Neurological Alliance of Ireland (NAI)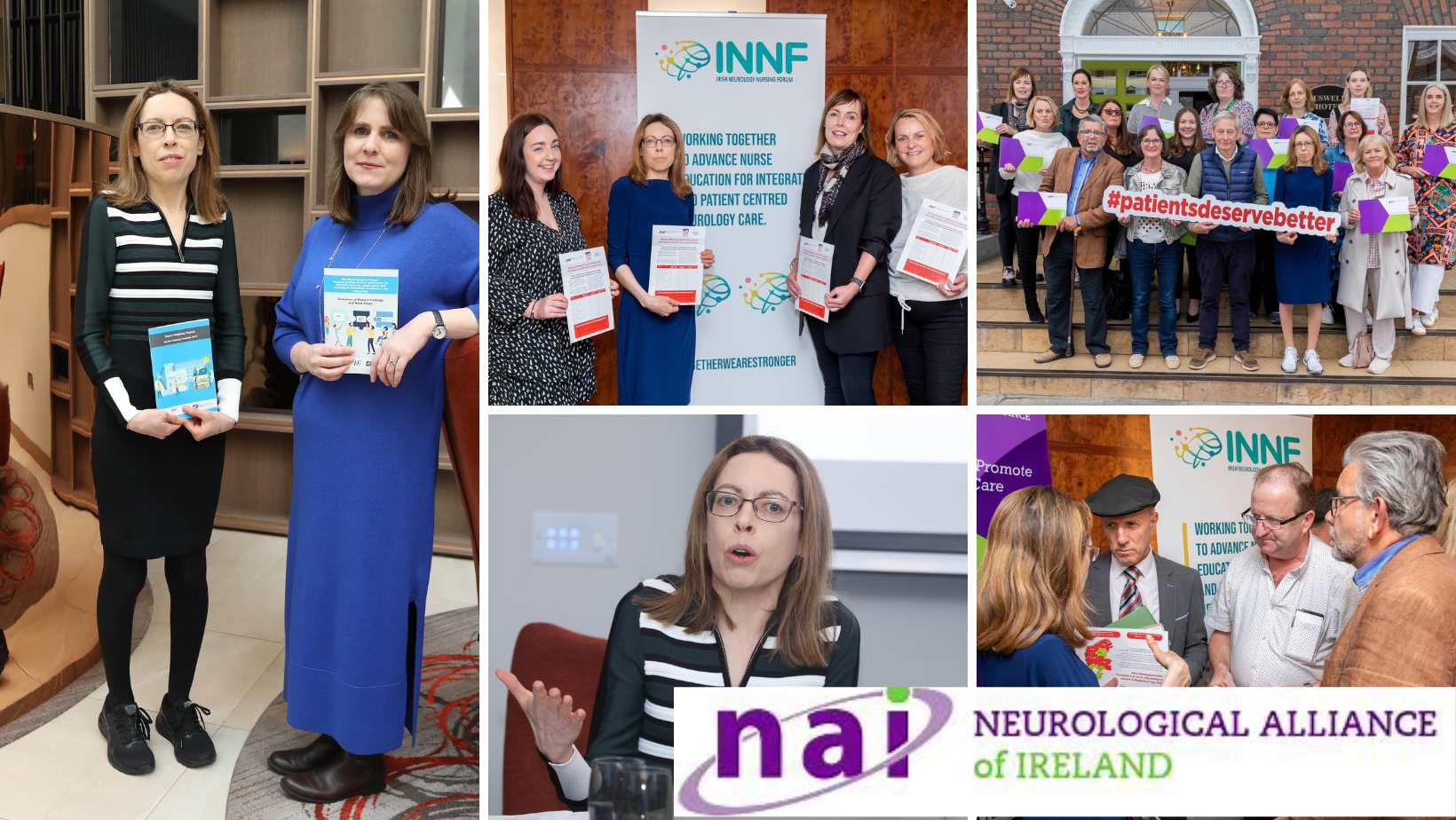 This month's Member Spotlight focuses on the Neurological Alliance of Ireland (NAI).
DFI's Communications Manager Brenda Drumm, met with Executive Director, Mags Rodgers.
The NAI is committed to highlighting and addressing the challenges facing people who live with a neurological condition. Their vision is an Ireland where people experiencing neurological conditions can achieve their best in life. Their mission is to be the alliance that collectively advocates with and for all people experiencing neurological conditions
Commenting on the work of NAI, Mags said that the NAI grew from a small number of organisations that came together 20 years ago under the motto unity is strength. She said they have grown to an umbrella organisation that now works with 30 plus organisations to support the more than 800,000 Irish people living with a neurological condition.
Speaking to the recruitment and retention crisis in disability services Mags said, "Voluntary organisations are used to challenges. They are resilient. They are probably too resilient. They face challenges over and over again."
Mags went on to say, "Organisations are losing staff. Staff want to work in patient organisations. They are committed but organisations can't compete on a level playing field.  They can't work harder through this crisis. It is an insurmountable obstacle for them until the Goverment steps in and resources them properly. This is something that should never have happened!"
Listen to the interview with Mags in full here.
Watch her NAI Postcard here on Tik Tok.
You can find out more about the work of NAI here.
Events and Consultations 
DFI's Annual General Meeting on 29 June 

DFI's Annual General Meeting (AGM) took place on Thursday 29 June.

Fran Brennan, Chair of the DFI Board, paid tribute to outgoing Board Members Pat Clarke, Wendy McCarry and Darragh McDonald and welcomed DFI's two new Board Members Aoife Lambe and Padraig Hannafin.

The DFI's Annual Report for 2022 was also presented at the AGM and is available by clicking on the link below.

The AGM business was followed by a topical session on the Transfer of Functions to the Department of Children, Equality, Disability, Integration and Youth and by the official launch of DFI's 2024 Pre-Budget Submission.
A Campaign Thank You for 3,000 emails sent to TDs and Senators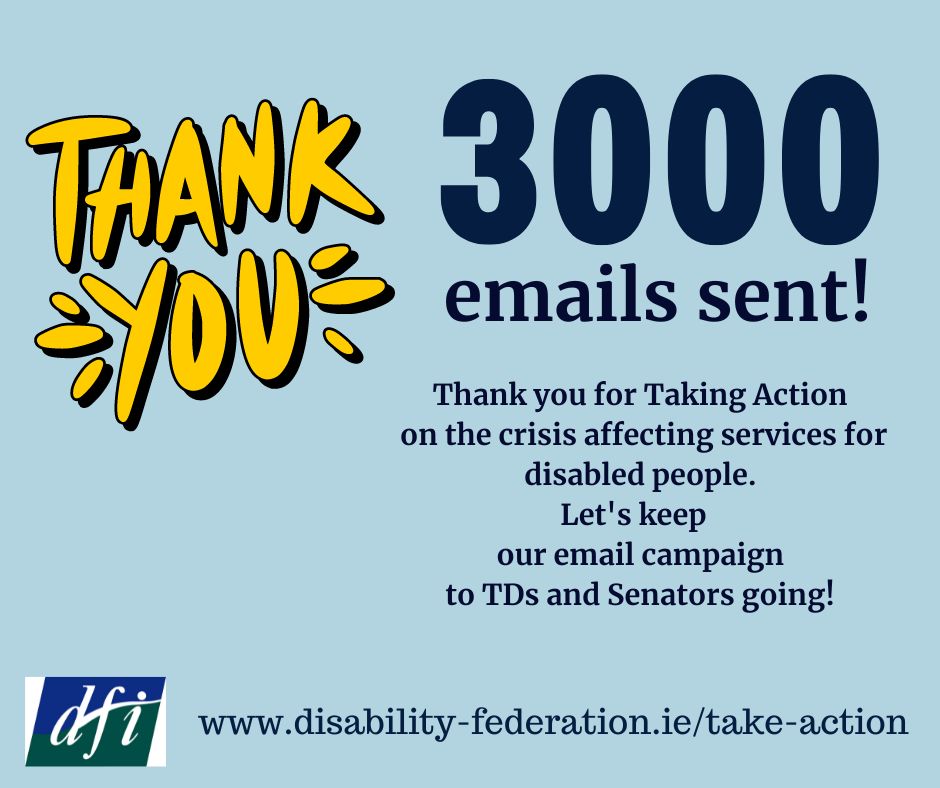 On 1 June we launched our email campaign to TDs and Senators asking them to take action on the crisis affecting services for disabled people which are threatened by the ongoing recruitment and retention issues in Section 39 disability-funded organisations.

The campaign took off and as we were signing off on this newsletter we had clocked up 3,000 emails (and counting) to TDs and Senators.

The email campaign will run until the end of July. There is still time to send more emails so we would be grateful if you could continue to share this within your organisation as well as on your website and social media pages.

DFI is following up on this campaign now with some additional targeted letters from CEO John Dolan to TDs and Senators, which also link this campaign into our Pre-Budget Submission.

Thank you for your support of the campaign!
Save the Date for #MakeWayDay23 – Friday 22 September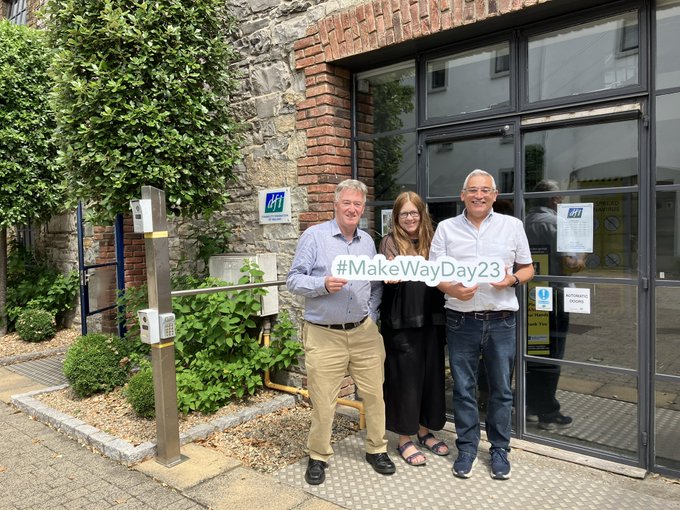 Make Way Day 2023 is coming to a street where you live on Friday 22 Septemer.

Make Way Day is an annual campaign to raise public awareness about the problems caused by obstacles blocking footpaths which create access and health/safety issues for people with disabilities.

We invite you to join us in using Make Way Day this year to highlight obstacles such as:
Cars or vans parked on a footpath blocking the way
Bicycles/motorbikes chained to lamp posts creating a trip hazard for a visually impaired person.
Illegally placed sandwich boards, forgotten bins, barrels and other obstructions.
Get in touch with us if there is something you are planning for #MakeWayDay23. You can also share your plans on social media using our hashtag #MakeWayDay23.
We are delighted to be working with An Garda Síochána again this year on the campaign.
We will have resources available closer to the day and our online survey tool will also be available once again on the website www.makewayday.com.
Pictured above are DFI's John Dolan, Brenda Drumm and Pierce Richardson marking the three month countdown on 22 June last. 
Actioning Self-Advocacy
Applications open for Self-Advocate Media Training in November 2023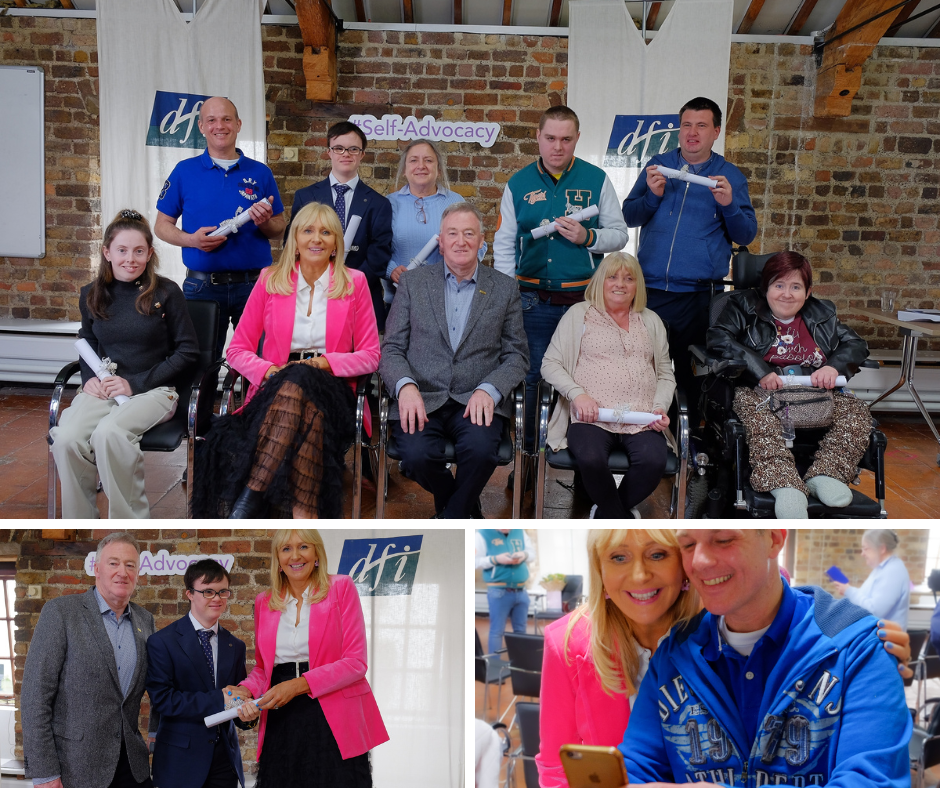 DFI will be hosting a Media Training course for self-advocates in November 2023.

The course will be offered online and in-person (in DFI offices in Dublin).

The training will take place from 10.00am – 1.00pm on Monday 6, 13, 20 and 27 November.

Places will be limited to 10, but a waiting list for the next course in Spring 2024 will also be available.

The media training will be delivered by DFI's Communications Manager Brenda Drumm with input from guest speakers.

Applications are open now by email to PJ Cleere.

To get a flavour of what's involved in the Media Training course click on the link below to watch our media training participants (pictured above with Miriam O'Callaghan and the DFI team) sharing their experience of the course from March of this year.
Self-Advocacy Awareness Training for Key Workers and Carers 

DFI are hosting four training sessions on Self-Advocacy for Key Workers and Carers. Participants will be offered inputs on advocacy, self-advocacy, health and wellbeing for the keywork or carer, facilitation skills and group work.

The training sessions will take place online starting on 20 September and continuing on 27 September and on 4 and 11 October 2023.

There are 20 places available on the course. As well as the inputs highlighted above, participants will have time to network and share experiences with one another in this space.

We are taking applications by email to Áine O'Sullivan, Community Development Officer with DFI. The closing date for applicants is 6 September. Email Áine or call 086 171 7119.
Policy & Research
Close the Gap and invest in people with Disabilites in Budget 2024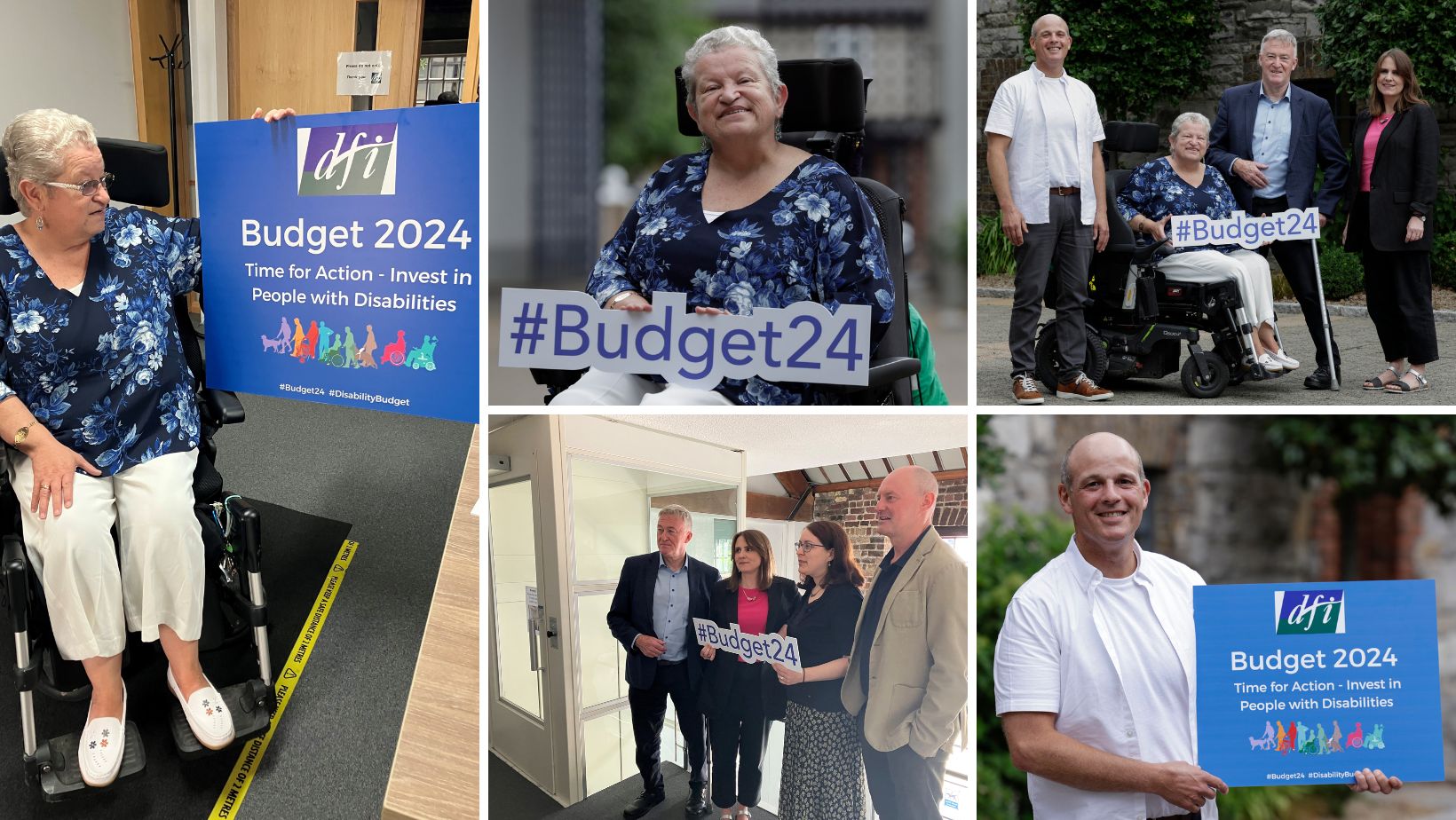 DFI is calling on the government to close the gap and to invest in people with disabilities in Budget 2024.
In our Pre-Budget Submission, published on 29 June, we outline the high levels of poverty and exclusion that people with disabilities continue to live with. This is despite the growth of the domestic economy and strong finances.
DFI is calling for a range of interwoven measures in Budget 2024 to ensure disabled people have an equal opportunity to live independently in the community, with choices equal to others.
This includes appropriate housing, adequate income and individualised social care supports with access to timely integrated healthcare.
DFI is also calling on the government to take action on the crisis affecting the very services that disabled people avail of. These services are under threat and funding is needed to ensure their sustainability, to increase pay by 15%, and to re-instate the link to public sector pay for disability organisations.
DFI also calls for a fully clear Budget Day announcement so disabled people can understand the implications of the budget for them – particularly in the areas of health and housing.
DFI CEO Letters to Ministers 
The DFI Pre-Budget Submission has been sent this week to Members of the Oireachtas. DFI's CEO John Dolan has also written to Minister Stephen Donnelly, Minister Darragh O'Brien, Minister Heather Humphries and Minister Roderick O'Gorman seeking a joint meeting with them and DFI concerning Budget 2024 and the Programme for Government disability commitments.
In his letter to Ministers, John said, "Disabled people are simply consumed by the struggle to get through life with the ever-present effects of having a disability. They also face the same challenges and struggles that so many others are facing. The impact of disability comes on top of all these challenges.
"The programme for government is ambitious for our disabled citizens, where it states:  'Ever since Ireland ratified the UN Convention on the Rights of Persons with Disabilities, we have signalled to those with a disability that we are now serious about making a difference – a difference that will make things better.
"Concerted and co-ordinated developments across your departments will deliver impactful and practical improvements for people and families."
We will update you on the response(s) we receive in relation to this matter.
New website landing page for Budget 2024 
We have a new landing page for #Budget24 on our website which we includes our own materials along with member organisation content and wider sector materials. If you have a Pre-Budget Submission or a resource that you would like us to include there, please email Brenda.
DFI attends launch of Housing Implementation Plan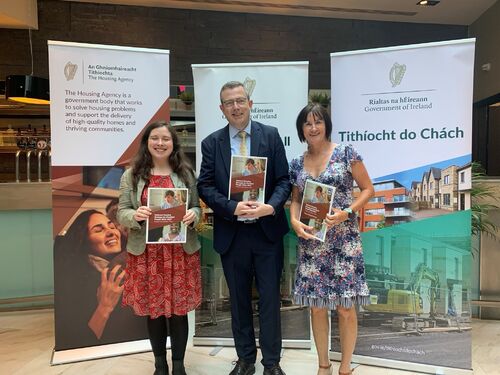 DFI attended the launch of the Implementation Plan for the National Housing Strategy for Disabled People 2022-2027 on Thursday 22 June.

DFI welcomes this development, as we have been advocating for the publication of this implementation plan, along with other disability and housing organisations, since last summer.

We will provide our analysis once we have fully reviewed the 72 page document. For now, we would draw your attention to the 'Outcomes and Actions' section, which begins on page 29. We are pleased to see that lead agencies, partners, timelines and Key Performance Indicators (KPIs) are included for all of the actions, as this will enable more effective monitoring of progress. These actions will be updated and reported quarterly to the National Implementation Steering Group which DFI sits on, so we will be able to comment and feedback on any issues that arise.

The main lead bodies with responsibility for delivering on the strategy, listed across multiple actions are:
Government Departments: Housing, Heritage and Local Government; Health; Children, Equality, Disability Integration and Youth
State Agencies: The Housing Agency; HSE
Local Government: Local Authorities, Housing and Disability Steering Groups
We look forward to positively supporting implementation as members of the National Implementation Steering Group and at a local level as members of several Housing and Disability Steering Groups. The strategy has the potential to make a hugely positive change for disabled people if appropriate targets, monitoring structures, and resources are now put in place to support the implementation. There is an undisputed high level of unmet housing need among the disabled population, and implementation of the Strategy is essential to address this.
If you would like to be involved and influence DFI's housing advocacy on an ongoing basis, please contact Ríona. We'd also love to hear from members about their own work in the area of housing, so do get in touch.
Pictured about is DFI's Ríona Morris with Bob Jordan, CEO of the Housing Agency, and Jean Coleman from the Irish Wheelchair Association at the launch of the Implementation Plan. 
Energy Poverty: DFI invited to speak at Department stakeholder event 

On Friday 7 July, DFI attended the Department of Environment, Climate and Communications' first Energy Poverty Action Plan Stakeholder Event.

We were one of four civil society speakers, along with SVP, ALONE and National Traveller MABS, highlighting groups who are particularly at risk of energy poverty.

DFI's Senior Policy Advocate, Fleachta Phelan, and disability activist Carolyn Akintola spoke to the 100+ attendees about disability poverty, the extra Cost of Disability (including higher energy and fuel costs), and the need for targeted measures to support disabled people, especially in Budget 2024. We also participated in a workshop on 'Meeting the Cost of Energy'.

Is energy poverty coming up in your work, and are the disabled people you support struggling to pay their bills? We'd love to hear more from members about the level of need, so we can reflect that in our advocacy. If you're interested to know more about this area of our work, do drop a line to Fleachta.

You can read the government's Energy Poverty Action Plan here, and the joint civil society statement on Energy Poverty that DFI helped draft recently here.
Minimum Essential Standard of Living 2023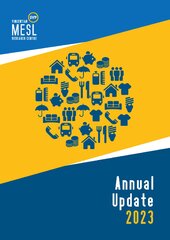 Last month DFI attended the launch of the 2023 Minimum Essential Standard of Living (MESL) update, and highlighted disability concerns.

The annual MESL publication captures the change in the cost of the minimum basket of goods and services needed to enable people to live with dignity. The 2023 MESL comes at a time of exceptional increases in living costs, which is placing particularly acute pressure on the cost of a socially acceptable minimum standard of living.

There has been a considerable increase in the cost of a MESL across all household types. The core MESL basket cost increased by 10.6% nationally in year to March 2023. The cumulative increase in core MESL costs over the past three years was 18.9%. As a result of this anything less than a €27.50 adjustment in core social welfare rate will be a real term cut.

The MESL provides an evidence-based indicator of the current cost of the goods and services required to enable a socially acceptable minimum standard of living. In this way, the MESL expenditure data serves as a benchmark to assess the adequacy of social welfare supports and the national minimum wage.

You can read more here.
TASC Report Launch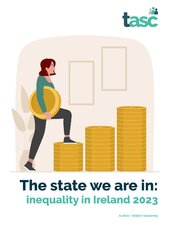 TASC launched their report The state we are in: inequality in Ireland 2023 on 20 June. The report shows the trends over time in the distribution of income, and the distributional aspects of the cost of living crisis. The report states that households with a disability and lone parents experience the highest levels of deprivation, as both have high expenses and low incomes.

TASC make four recommendations:
Maintain or increase revenue.
Targeted supports for those on low incomes.
Benchmarking welfare payments.
Increases in the social wage.
You can read the report here.
Social Justice Ireland Pre-Budget Submission 2024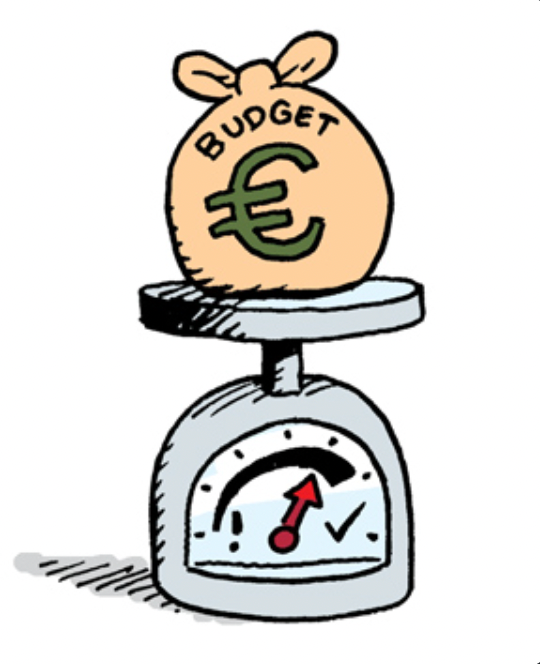 Social Justice Ireland launched their Budget Choices 2024 document on 3 July. The submission argues that Budget 2024 must prioritise the protection of the most vulnerable groups in our society. Social Justice Ireland recommends a total investment of €942.3m in social and community care, disability, and mental health.

This includes:
€600m investment into Sláintecare infrastructure,
€40m to increase investment in disability services,
€228m to introduce a Cost of Disability payment,
€40m for implementation of the UN CRPD,
Restore cuts to Housing Adaptation Grant for People with a Disability with an additional allocation of €85m
Various investments to better support Carers
You can read Budget Choices 2024 here.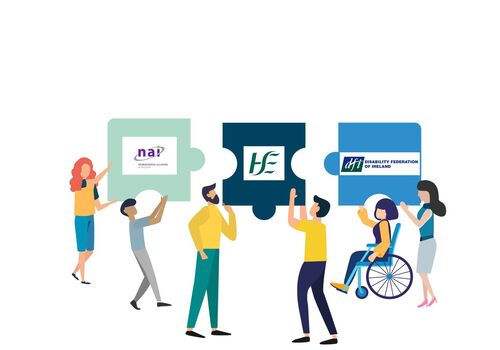 Phase 2 of the Neuro-Mapping Project commenced this month with the first meeting of the steering group taking place, and the Terms of Reference approved.

As well as representation from HSE CHO 2,3 and 6, we were delighted to welcome Joe Condon EOPD and Dr Rosie Mangan as service user representatives and Richard Stables, Headway, and Dr Susan Coote MS Ireland as representatives from voluntary organisations.

This allowed us to further understand current service/support pathways, between existing and developing statutory and voluntary community-services for people with neuro-rehabilitative needs in selected CHO areas.

This will also support the implementation of the Community Work Stream of the Neuro-Rehabilitation Strategy. A draft outline work plan will be presented to the steering committee at the next meeting on 13 September.

In the meantime you can link to all the Neuro-Mapping Project documents that have been published to date here.

Recruitment of Research Project Officer

The closing date is fast approaching for the role of Research Project Officer for the Neuro-Mapping Project.

The successful candidate will be required to work with a wide range of stakeholders, including service users, HSE personnel at CHO and National level as well as the NAI and DFI membership.  In addition, they will build strong working relationships with the Project Partners, Neuro-Mapping Steering Committee and work collaboratively to support the implementation of phase 2 of the neuro-mapping project.  It is a national role and will involve travel.

Click here for a full job description and application form which should be submitted no later than 28 July 2023.
Dialogue Forum with Voluntary Organisations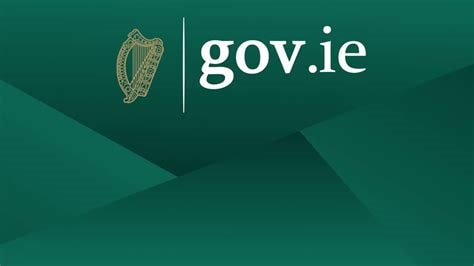 The three intertwined area of focus for the Dialogue Forum for 2023 are:
Design and Implementation of reconfigured HSE
Review of Service Arrangements
Sustainability of Services
The update from the Dialogue Forum meeting on 19 June is as follows:
National Service Plan (NSP)  
The Department of Health (incorporating DCEDIY input) and the HSE finance and strategy teams both gave presentations on the process and then a workshop was held focusing on what the experience of the voluntary sector is in the process.  There was a very clear message form the voluntary sector that the process needs to change and to become more inclusive of the voluntary sector and there was a willingness to engage with this from the Departments and the HSE.
Service Arrangements Review  
The process to carry out the review and the members of the oversight and working group have been agreed.  This process has now commenced and will take six months. DFI will be actively engaging with our membership on the review. Fran Brennan – CEO of Polio Survivors and Chair of DFI will be a member of the working group. If you are interested in getting involved in supporting our work on the review please contact Cathy.
Regional Health Authorities  
The Dialogue Forum has named the development of the new Regional Health Authorities as a key mechanism to demonstrate the application of the Partnership Principles. There has been good engagement between the team designing the new system and the voluntary sector in recent months.  The Department of Health informed us that the implementation plan has been sent to the Cabinet Health Sub Committee for approval and should be made public by mid-July.
Partnership Principles  
The dissemination of the Partnership Principles was discussed briefly and will be given more attention at the next meeting in October. There is concern that the principles are not cascading through the health system and there is a recognition that more supports are needed to ensure that they are known and understood across the health system.
The work of the Dialogue Forum is informed by the research undertaken to date. Click here to view these and all papers relating to the Dialogue Forum.
Disability Services: Health Research Board reports latest figures on current use and future demand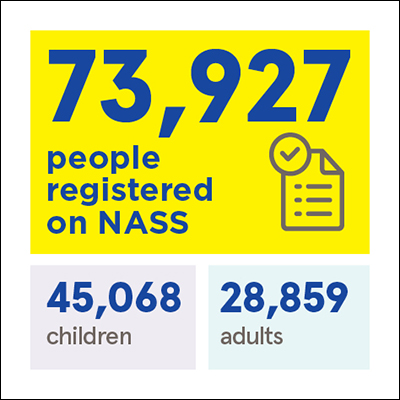 A new Health Research Board (HRB) report on disability services shows that 73,927 people were registered as engaging with disability services in 2022. A total of 45,068 were children and 28,859 were adults.

The report provides a picture of the services people receive, as well as the services they will need in the next five years.

Almost all children registered were engaging with a multidisciplinary Children's Disability Network Team (CDNT). More than 6 in 10 adults were in receipt of a day service, and 1 in 4 adults were living in residential care.

Over 1,700 adults, who are currently living at home with ageing carers, were identified as needing residential care now, or within the next 5 years.

Overnight respite is required by over 1,300 children and adults. This is a key service which provides a positive experience for the person with a disability and supports families and caregivers.

Commenting on the findings, HRB Chief Executive Dr Mairéad O'Driscoll said, "We collect this data so that we can improve the lives of people living with a disability and enable them to live more independently. Through this report we create a better understanding of the service provision and demand among people living with a disability, which can be used to plan future allocation of resources and services."

The data that feeds into this report is collated through HRB's National Ability Supports System (NASS), a national database which records information about the HSE disability-funded services that people use and need such as, residential services, respite care, day services and specialist supports, for example occupational therapy or physiotherapy. The purpose of NASS is to gather information from service providers in order to aid the planning, development, and organisation of HSE disability-funded services.

Data is provided to NASS by service providers who provide disability services to people in Ireland. Service providers are asked to 'review' NASS records for each of their service users once a year to ensure information is accurate for each reporting year.

You can download the full report here and an infographic overview of the main findings here.
National Patient and Service User Forum   

The National Patient and Service User Forum needs you. Do you want to join a growing movement for change?

This is the forum for you if you are passionate about:
having a say and being involved in the health and social care services that you use, or support people to use.
providing recommendations and advocating for improvements in services.
co-designing services with people at the centre.
The Forum promotes patient and service-user advocacy through collaborative partnership, involvement and engagement with patients, service users, family members, carers, representative groups, and disability service organisations. The Forum works closely with the HSE on partnership approaches on health service programmes and policies. The Forum's most recent engagement and ongoing partnership is with the HSE Health Regions Programme Team.
The Forum is at the forefront of this innovative space within the Irish Health and Social Care sector and DFI welcomes the recent investment from the HSE into patient, service user and family engagement. Assistant National Director for Patient, Service and Family Engagement, Iolo Eilian has been recently appointed by the HSE. DFI welcomes this new role in championing patient, service user and family engagement and partnership from the frontline to the HSE Executive and above.
If you would like to input into the work of our DFI Representatives, Deirdre Callis, Debra Ireland and Gina Gahen, Spina Bifida Hydrocephalus Ireland or are interested in joining the Forum as an organisation or individual, email Lisa or call 086 467 0810.
National Patient Forum – HSE.ie
 FreedomTech
Online Training on Digital Accessibility from the European Disability Forum 

We invite you to register for an online training workshop on digital accessibility on 12 September from 14:00 to 16:30. The training will be given by Susanna Laurin, the representative to the EU for the International Association of Accessibility Professionals.

The training will include theory and practical exercises, as well as questions and answers. It will be of particular interest to those working in communications, marketing and digital media in your organisation.

It will cover the following:
What is digital accessibility in communication?
Social media accessibility
Document accessibility
Website accessibility
The training is offered by the European Disability Forum who are offering this as initial training which will focus on participants that are new or rather new to the topic, as a starting point. To ensure good discussions and shared experiences, EDF do encourage participants who have some experience to join as well and get a fresh update.
All are welcome. Click on the registration link below. If you have any queries please contact Brenda.
.
Humanity should get the best from AI, not the worst – UN disability rights expert Gerard Quinn 

Artificial intelligence has fundamentally altered the terms of existence for human beings, said UN Special Rapporteur on the rights of persons with disabilities Gerard Quinn.

"New technologies can be of enormous benefit to persons with disabilities and drive the search for inclusive equality across a broad range of fields such as employment, education and independent living," he said. "However, there are many well-known discriminatory impacts."

He made his comments during a presentation of his report to the Human Rights Council. In his report, Quinn defined artificial intelligence, or AI, as machines made to work "in the same or a similar way to humans, only faster, better and more reliably and, theoretically, without human bias."

While there is growing awareness of the human rights challenges that these new technologies can pose, Quinn said the discussion should shift to focus on the specific challenges these new technologies pose to the rights of people with disabilities, as provided by the Convention on the Rights of Persons with Disabilities. These include the rights to privacy, autonomy, education, employment, health, independent living, participation.

Click here to read more on this.
Companies in the EU will have to report on disability inclusion 

Companies operating in the EU will have to report on their practices for the inclusion of persons with disabilities and other marginalised groups, due to the new EU Directive on Corporate Sustainability Reporting (CSRD).

The Directive was approved and published in the Journal of the European Union in December 2022. The publication was followed by a long process of defining the set of reporting standards that companies must use regarding the sustainability of their environmental, social and governance practices. We advocated strongly to ensure that disability was substantially and meaningly reflected in the reporting standards.

On 9 June 2023, the European Commission's services for the financial market published the first set of European Sustainability Reporting Standards.

The reporting requirements will be phased in over time. The first companies will have to apply the standards in financial year 2024, for reports published in 2025. Small and Medium Enterprises (SMEs) will only need to report as of 2026, with a further possibility to opt out voluntarily until 2028, and will be able to report according to separate, proportionate standards that will be developed next year.

The European Disability Forum (EDF) has more detail and updates on this issue including their views on whether this will make a difference to the lived experience of disabled people on inclusion.

Click here for more on this from EDF.
Episode Five of the DFI's new podcast on Budget 2024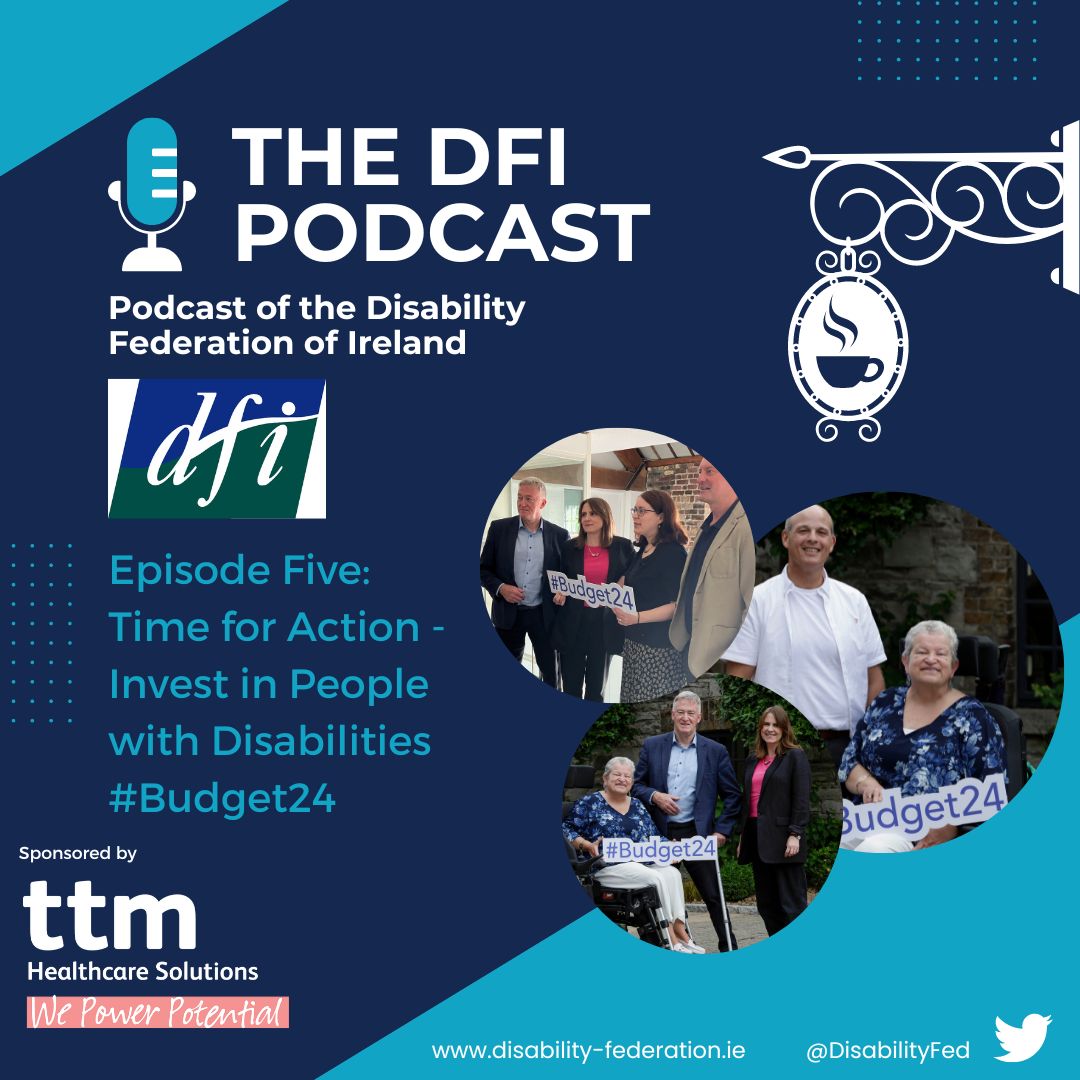 Episode Five of The DFI Podcast focuses on DFI's Pre-Budget Budget Submission 2024.
On this episode of the podcast you will hear from members of the DFI team – John Dolan, CEO, Dr Emer Begley, Director of Advocacy and Inclusion, and Fleachta Phelan, Senior Policy Advocate.
You will also hear from disability activists and advocates Carolyn Akintola from Dublin and Michael Meere from Clare who were with us in DFI to launch the Pre-Budget Submission.
You can listen to the latest episode here.
DFI is delighted to be partnering with TTM Healthcare Solutions on this project.
Click here to subscribe to all episodes of The DFI Podcast on Spotify.
Community Circular Economy Grants  

Community Foundation Ireland is now inviting applications from groups interested in developing  local Circular Economy Action Plans. Local and community-based organisations are now being invited to apply for structured grants to develop their Community Circular Economy Action Plans.

They will be supported through online training, resource packs and access to experts to develop Community Circular Economy Action Plans which will be supported by grants of up to €2,500.

The closing date for receipt of applications is Friday 28 July 2023.

To apply or learn more click on the link below.
For more on all of the content featured in our newsletter see www.disability-federation.ie.

If you have been sent this newsletter please subscribe directly to future issues here
Post Disclaimer
We try to bring you news items that may be of interest to our readers. And while Cork CIL makes every reasonable effort to provide information that is as comprehensive, accurate and clear as possible, the information provided on this site is of a general nature. The news and stories shared on this page are often from third party organisations. The ideas and opinions expressed in these articles are those of the original authors and are not necessarily shared or promoted by Cork CIL. Responses to articles and queries about third party information should be addressed to the original author.