DFI Spotlight – Minister Rabbitte TD to address DFI AGM
DFI's AGM is taking place next month and will include a discussion on the topical issue of 'Programme for government: Implementation of Disability Commitments'. Opening remarks will be provided by Minister Anne Rabbitte TD, followed then by a panel and open discussion surrounding this important topic. The event details are as follows:
Date: Thursday 9 June
Time: 1:00pm
Venue: Fumbally Court, Fumbally Lane, Dublin 8, D08TXY8, or for a member using the Zoom facility at that member's home address as recorded in the register of members of the Company.
Please register (for in person or online attendance) by contacting India Sacre by close of business Wednesday 1 June at indiasacre@disability-federation.ie.
Some highlights of this issue…

Health
We provide an update on the Dept. of Health Dialogue Forum.

Events & Campaigns
View DFI and relevent sector events inlcuding our 'Introducing Improving Quality (IQ) Workshop'.

Self Advocacy
Read an overview from PJ Cleere about DFI 's Self Advocacy Project and how our members can get involved.

Advocacy & Policy
An update from DFI's Policy Team and recent submissions.
Dept. of Health Dialogue Forum 
DFI represent our members on the Department of Health Dialogue Forum created to build a stronger working relationship between the State and the voluntary healthcare sector for the benefit of patients and service users and to facilitate regular dialogue with the voluntary sector on future policy and strategic developments.
A sub group of the Dialogue Forum has worked with NESC to draft a document on Partnership Principles. It has been recognised that the principles firstly need to be agreed, shared, relevant, meaningful, impactful and implementable. The key principles identified are:
Trust and Mutual Respect
Transparency
Problem-Solving Deliberation
Collective Leadership
Accountable Autonomy
Active Participation and Engagement
Innovation and Learning
Quality People-Centred Services
A detailed draft report on Partnership Principles will be presented to the next meeting of the Dialogue Forum.
The HSE will present a paper to the next Dialogue Forum meeting on entitled Considerations for HSE Review of Service Arrangements – Purpose, Process and Content. The paper will outline the high level issues to be taking into account when considering the review of the Service Arrangement.
Contact allendunne@disability-federation.ie for any further information.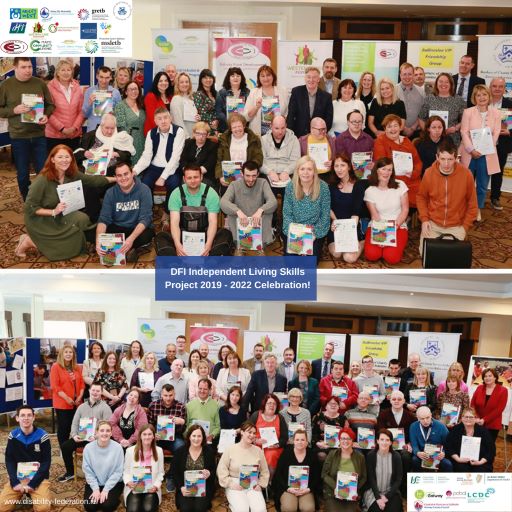 DFI Independent Living Skills Project Celebration
Minister Anne Rabbitte TD joined DFI and partners last Friday to celebrate the results of our Independent Living Skills Project. This project saw organisations of service provision and support come together with each of the Education Training Boards and Local Development Companies of the West of Ireland along with parent representatives to collaborate on independent living skills training and supports.
John Dolan, CEO, Disability Federation Ireland described that " this project recognises the rights of people with disabilities to access health and wellbeing initiatives where they live. Inclusion does not happen on its own. These projects have supported the deliberate and formal commitment by everyone to make sure that people with disabilities are included and supported equally in their local communities. "
Project evaluation reports will be avilable to view in the coming weeks  and if you would like further information please contact project lead Cathy McGrath for any queries cathymcgrath@disability-federation.ie.
DFI Self Advocacy Project 
The DFI Self-Advocacy Project is delivered in partnership with our members. Through this project, DFI Members, key workers  and self-advocates are;
Gaining access to the supports and resources they need to embed self-advocacy in their organisations.
Self-advocates are empowered to contribute more effectively in framing their services and developing member organisations.
Key workers are supported to facilitate and empower self-advocates
Self-advocates will also be facilitated to influence and direct advocacy work in DFI.
DFI's lead on this project is our Developent Manager PJ Cleere. You can read PJ's latest project update on meetings that have taken place already and details of our next meeting focusing on the challenge to empower.
This project is open to all DFI members so please do feel free to register for the next meeting which takes place on July 13th.
Housing
In April DFI met with the official leading on housing adaptation grants – a review and consultation on the scheme is coming later this year. We'll also be attending the first Disability Consultative Committee of the Department of Housing this Friday 27th May 2022.
DFI and our member Irish Wheelchair Association responded to a query from the Dublin Inquirer on disability housing. We highlighted the ongoing disability housing crisis, the longer wait times for disabled people on the housing list, and the need to build more wheelchair liveable housing. You can read the article in full here.
Poverty
We were also delighted when Consumer Affairs show 'The Price of Everything' reached out to us looking for a disabled consumer to speak to. An episode broadcast on 28th April featured Carolyn Akintola, a wheelchair user, who spoke about the extra cost of having a disability, and the worry caused by ongoing energy price increases when living on Disability Allowance. You can see the episode here.
UN CRPD 
DFI delivered training on the UN CRPD to Wicklow county council in April. We continue to participate in the Disability Participation and Consultation Network, and attended a CRC webinar presenting work by disabled researchers, developed with DFI's support. We also attended the Plenary of Coalition 2030, where the workplan for the year was presented.
Submissions
DFI made submissions to the Department of Social Protection on the EU Pillar of Social Rights Poverty Reduction Target and the Reasonable Accommodation Fund, and to the Department of Enterprise, Trade and Employment on the EU Employment Headline Target. At the recent Community and Voluntary Pillar Bilateral meeting with the Department of Social Protection we raised the cost of disability, high and increasing disability poverty rates, and how the cost of living crisis is affecting disabled people.
Contact fleachtaphelan@disability-federation.ie for any further information.
DFI Event – Introducing the IQ Standard
This Webinar will explore the benefits of the IQ Standard and how it aligns with the Charity Regulator's "Charities Governance Code.
Carers Week 2022  (13th-19th June)
This is a week to celebrate the work of family carers in Ireland. DFI is a partner in this project. This year, there will be a mix of in person and virtual events available to family carers across the country.
Social Inclusion Forum Workshops
The 2022 Social Inclusion Forum will take place in late June, and preparatory workshops are being run by Community Work Ireland and European Anti Poverty Network Ireland in the coming weeks. DFI will be attending, and would encourage members to attend the workshops (there is one specifically on disability).
Think Housing Build Accessible Event
As part of the Think Housing Build Accessible roadshow, an information morning will take place in Tuam, Co. Galway on Monday 30th May. The event is part of series to raise awareness of the struggle faced by disabled people looking for suitable accomodation across the country. DFI are a partner in this project. See details below.