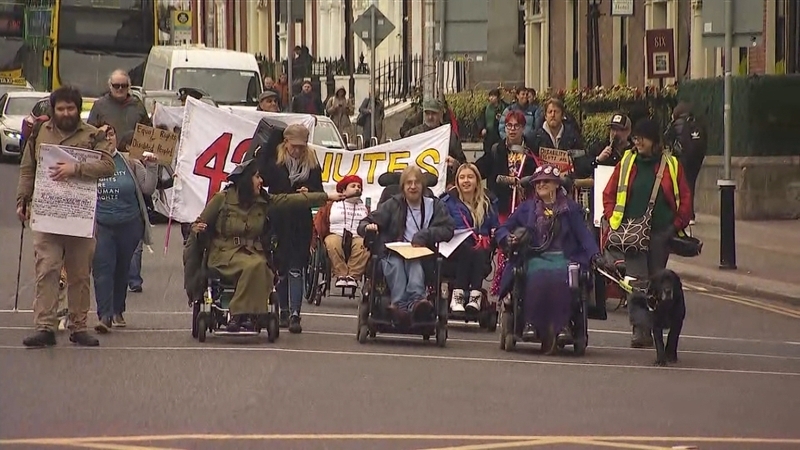 Disability rights activists held demonstrations around the country today saying failures in the allocation of personal assistants (PA) have deprived people of their independence.Campaigners said they were being denied basic human rights because personal assistant services (PSA) are well under funded and under provided.

Disability Power Ireland (DPI) said disabled people are only getting 42 minutes a day on average with a PA.

Maryam Madani, DPI founder, said many of those at the rally in Dublin today had to "fight tooth and nail" to get their PA hours "… it's ridiculous, it's a basic human right".

DPI said: "Under Article 19 of the United Nations Convention on the Rights of Persons with Disabilities, disabled people have a right to PAS – not home help, not care support not nursing but PAS."

Ms Madani said allocation of the PSA is a "postcode lottery".

"I wouldn't be me without my PA," said Ross Coleman, a graduate intern at Trinity College Dublin.

"When I don't have my PA I feel like I have to compromise who I am, I struggle with the most basic things that non-disabled people take for granted," he said.

"I feel marginal and sometimes I don't even feel human."

The small group of demonstrators made their way from the Garden of Remembrance to the GPO saying they wanted to "retrace the route of the signatories to the Irish Republic, including the disabled Seán MacDiarmada and Joseph Plunkett, to the GPO, where the Irish Republic was declared 107 years ago".

While the gathering was small, many had made great efforts to get there including Isolde O'Brolcháin Carmody, who travelled from Co Leitrim yesterday because she could not do the trip in one day.

"I got the train down last night, it was quite an undertaking," she said, while stressing the importance of her PA.

"It's life or death, I can't manage at all without a PA, for getting food, medication, getting me up in the morning, caring for my assistant dog. All the ordinary things that other people wouldn't think about it."

Ms O'Brolcháin Carmody says she has 25 hours allocated PSA a week.

"That's recently increased from 15 hours despite my conditions becoming more complex, that's enough for home help but PSA is supposed to give you a life."

While the main protest march took place in Dublin, others were held in Manorhamilton in Co Leitrim, and Ennis in Co Clare.

Appearing before a Joint Oireachtas Committee on Disability Matters recently when PSA allocation was raised, the HSE's National Director of Community Operations, Yvonne O'Neill, said there had been a 15% increase in the allocation of PA hours since 2020 but acknowledged the need for further hours.
Post Disclaimer
We try to bring you news items that may be of interest to our readers. And while Cork CIL makes every reasonable effort to provide information that is as comprehensive, accurate and clear as possible, the information provided on this site is of a general nature. The news and stories shared on this page are often from third party organisations. The ideas and opinions expressed in these articles are those of the original authors and are not necessarily shared or promoted by Cork CIL. Responses to articles and queries about third party information should be addressed to the original author.