Click here to view this email in your browser.


April Update
Welcome to our April Member Update.
We have some updates on the Neuro-Mapping Report launch and on the launch of the Partnership Principles. We extend an invitation to attend an online briefing with us on the new Regional Health Areas and to our next Policy and Advocacy Members Forum.
We introduce our delegation for the Fifth European Parliament of Persons with Disabilities.
We congratulate the self-advocates who completed our new DFI self-advocate media training and received their certificates from Miriam O'Callaghan and John Dolan.
In this month's Member Spotlight we focus on Polio Survivors Ireland who are celebrating their 30th anniversary this year.
We held our first SGM of the year on 6 April with time set aside for the issue of service continuity and staff recruitment and retention in Section 39 bodies. We will be following up in the coming days by separate email.
DFI's Three Year-Advocacy Strategy – Member Consultation and Invitation:
DFI has engaged Hannah Grene of Barncat Consulting to work with us on developing a three-year advocacy strategy. We will be engaging with you through our regular channels and forums, as well as reviewing past member consultations and external literature.
If you would like to take part more directly in shaping the advocacy strategy we invite you to join us for an online workshop (date to be confirmed). Please email us before Friday 21 April to be part of the workshop.
Polio Survivors Ireland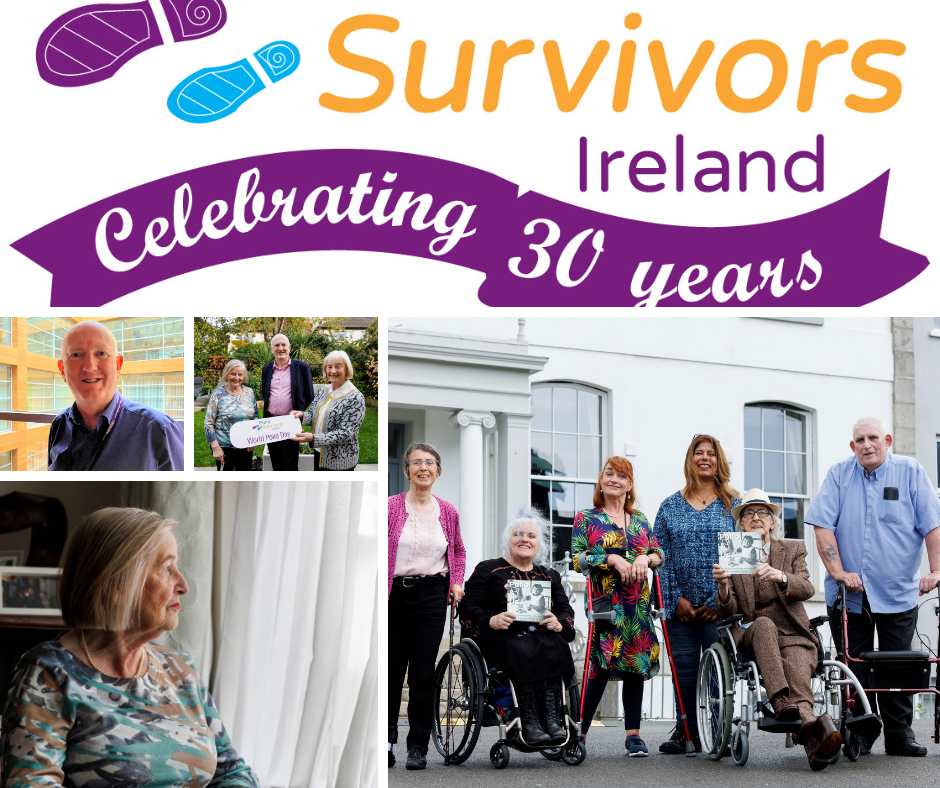 For this month's Member Spotlight we met with Fran Brennan, CEO of Polio Survivors Ireland.
Fran spoke about the history of Polio Survivors Ireland as it celebrates its 30th anniversary this year.
He said, "One of the challenges we face with that is that there are no longer any of the founding members alive. That generation is gone now so we want to honour them and at the same time continue their legacy. That's what we are trying to achieve this year – it's both marking their contribution and what they did for their fellow polio survivors but it's also ensuring that their legacy continies and that's the hightlight of the events. It will be the strong emphasis at our conference later in the year in Carlow."
Fran also addressed the stigma that has often been felt by polio survivors – even to this day.
He also spoke about polio survivors feeling like they are the forgotten population left behind suffering the terrible effects of the disease. He spoke about the bitter sweet feeling survivors have who just missed out on the vaccine but who are at the same time so grateful that today's children do not have to be afraid of polio because of the vaccine.
Click here to read our full Member Spotlight and to listen to the interview with Fran.
Click here to watch Fran's CEO Tik Tok Postcard!
If you would like to be featured in our Member Spotlight please email brendadrumm@disability-federation.ie

Publication of National Service Plan 2023 and Sláintecare Action Plan 2023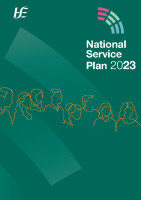 On 24 March, the HSE published the National Service Plan 2023 which outlines the HSE budget for the year.
The Department of Health published the Sláintecare Action Plan on 28 March, which shares the reform priorities linked to Sláintecare.
We will share our analysis of both documents with you once it is completed. If you are interested in DFI's health work and not already signed up to our National Health Advisory Forum mailing list, make sure to do so! Click here.
Join our Online Briefing on the new Regional Health Areas with HSE's Liam Woods on Friday 5 May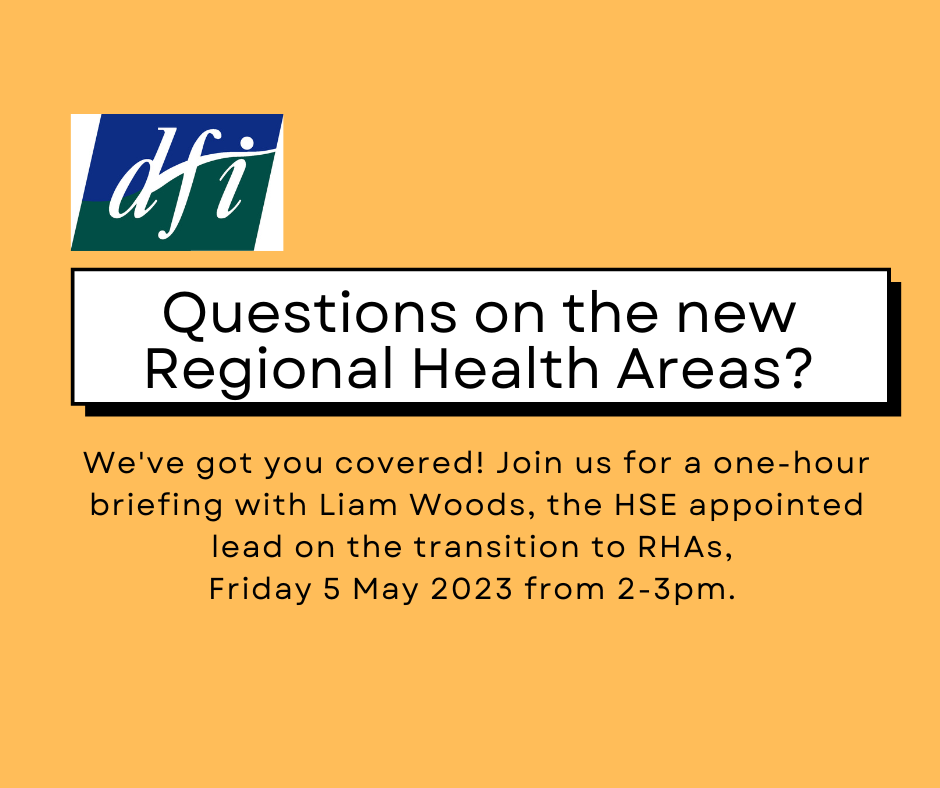 The HSE will bring Community Health Organisations and Hospital Groups together under six new Regional Health Areas, RHAs early next year. This is a key component of the realisation of the shared vision of Sláintecare and the Programme for Government. Currently, the operational plan for the RHAs is in development.
The purpose of this new RHA configuration is to enable greater integration of community and acute care, to empower local decision making and to support population-based service planning.
As this is a significant reconfiguration of services, we know that there are a lot of questions and concerns about how the new system will operate.
With that in mind, we would like to invite you to an online briefing with the HSE appointed lead on the transition to RHAs, Mr Liam Woods, on Friday 5 May 2023 from 2.00pm to 3.00pm.
We would encourage you to avail of this opportunity for engagement with Liam on this important issue. We have a link for booking below which will also offer you an opportunity to submit questions on the RHAs that you would like him to respond to at the briefing.
DFI has developed a short briefing paper on the RHAs which is available to view here.
The Neuro-Mapping Project Report to be launched by Minister Anne Rabbitte

On Wednesday 19 April Minister Anne Rabbitte will launch the Neuro-Mapping Report.
This joint Health Service Executive (HSE), Neurological Alliance of Ireland (NAI) and DFI project, which was funded by the HSE Strengthening Disability Services Fund, describes nationally the breadth of community services that people with neurological conditions access from voluntary organisations and identifies joint initiatives between voluntary organisations and the HSE.
This launch event has booked up rapidly so as we write there are only a small number of places left for this in-person event in the Clayton Hotel.
However, the Neuro-Mapping Report, a summary of the report in leaflet and audio formats, and the Service Mapping Template will be available on the DFI website on the afternoon of 19 April.
Actioning Advocacy
Congratulations to the class of 2023 on completion of DFI's Self-Advocate Media Training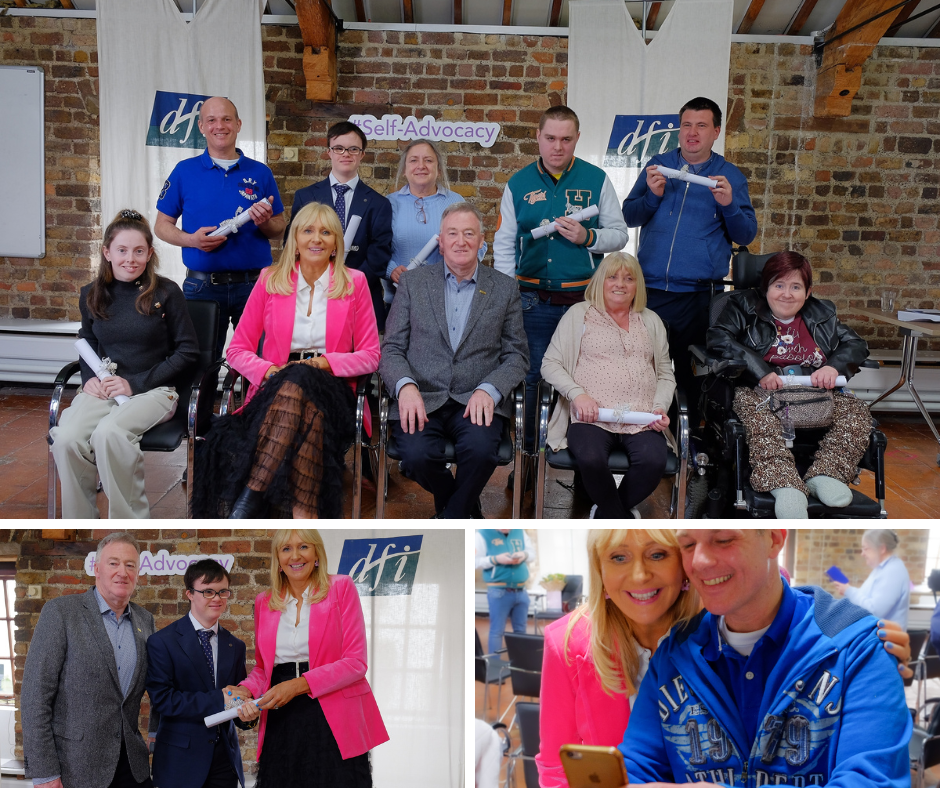 Self-advocates from across the country took part in DFI's first ever media training course, delivered over four Mondays in March.
On Monday 27 March the self-advocates gathered with DFI staff to hear from broadcaster Miriam O'Callaghan who encouraged them to continue to use their voices to raise awareness of disability matters in the media.
The self-advocates were presented with their media training certificates by Miriam and by DFI CEO, John Dolan. Congratulations to our first media training class of 2023!
Catherine Cooper from Dublin
Brian D'Arcy from Galway
John Doyle from Limerick
Michael Meere from Limerick
Dympna Minaguchi from Mullingar
Conor O'Donnell from Kildare
Shannon O'Farrell-Molloy from Wexford
Karen Smith from Dublin
We invite you to take a few moments to watch our short video (below) which gives you a flavour of what the self-advocates made of the media training experience. You might even share it if you see it on our social!
Please email PJCleere@disability-federation.ie for more information on DFI's self advocacy programme.
Policy & Research
Housing Updates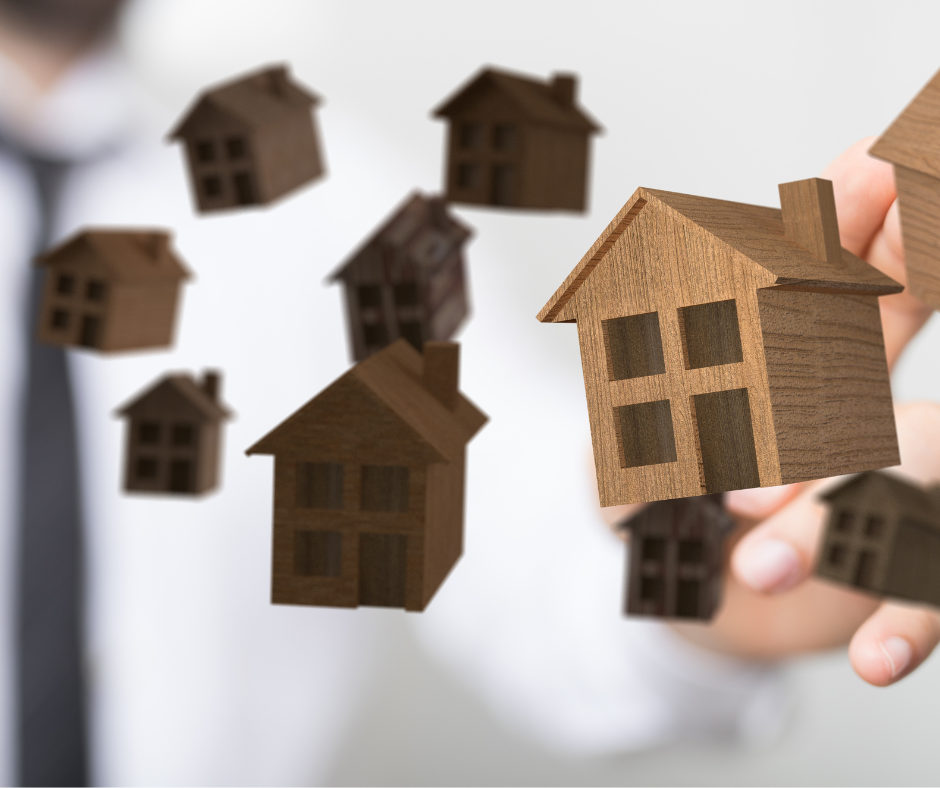 Housing Strategy for Disabled People 2022-2027 Implementation Plan
DFI have contacted a number of TDs and put in a Parliamentary Questions to query when the implementation plan of the Housing Strategy 2022-2027 will be published. We are increasingly concerned about the delay of progress in this area – the implementation plan was originally due to be published by the end of Q2 2022. We will let you know if we get any update on this.
National Standards Authority of Ireland calls for experts in the development of a standard on Universal Design Dwellings
The NDA will be supporting the National Standards Authority of Ireland (NSAI) in 2023 on the development of a new Irish Standard on Universal Design Dwellings. This new standard will specify requirements and recommendations for the design of accessible, usable, flexible, and adaptable Universal Design Dwellings, ranging from apartments to individual houses.
The NSAI is inviting interested parties to participate in this work including: Disabled Persons' Organisations, architects, engineers, designers, consultants, planners, local authorities, housing providers, builders, policy makers, researchers, disabled persons and older persons.
A two hour information session/briefing will be held online on Monday, 17 April 2023, from 10am to 12pm. Click here for more details and information on how to register.
Summary of Social Housing Assessments 2022
The Housing Agency have published their annual summary of social housing assessments, with the data from 2022. The number and proportion of households with an accommodation requirement due to disability has remained relatively steady since 2021, with 6.6% of households recorded in this category. There was a small increase in the proportion of households whose basis of need for housing was a mental health disability (from 2.5% to 2.8%) or a physical disability (from 2.4% to 2.5%) between the two years and a slight decrease in households assessed as having basis of need due to an intellectual disability (from 2.8% to 2.5%). We will analyse the data from this report further, and share our analysis once complete. Read the full report here.
If you would like to know more about any of the above, or you would like to be linked in to DFI's housing work on an ongoing basis, please contact rionamorris@disability-federation.ie.
Policy and Advocacy Members Forum – next meeting is on Thursday 4 May 2023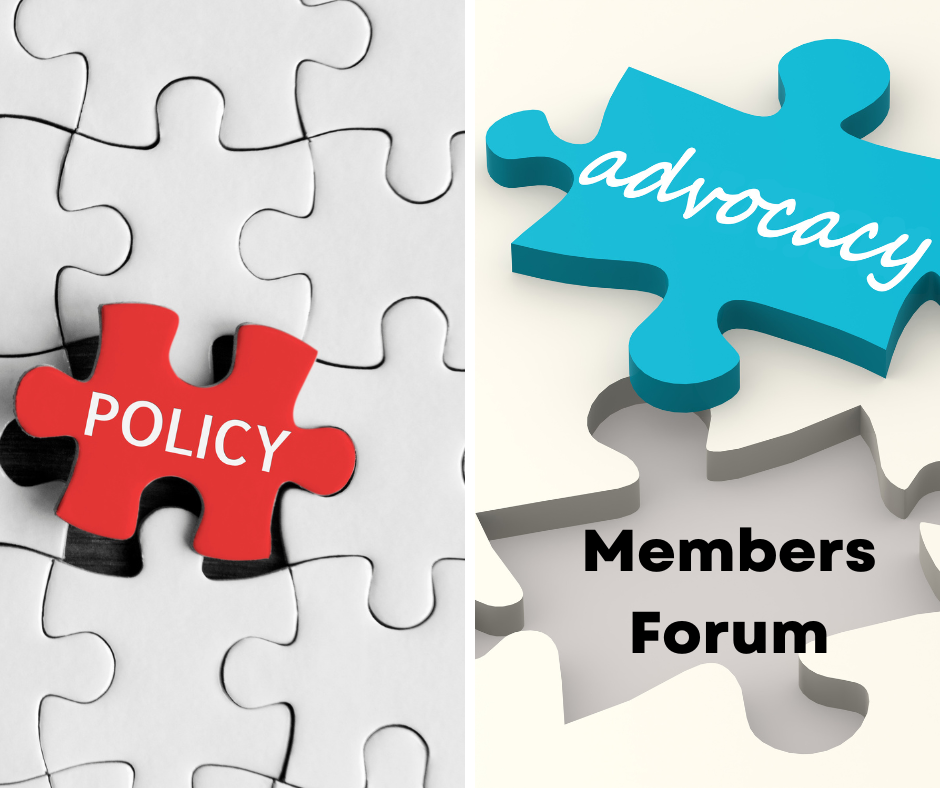 The next meeting of our Policy and Advocacy Members Forum will take place on Thursday 4 May from 10am – 12noon. We expect to talk about Budget 2024 and hear about your priorities, and to discuss any other pressing issues. We'll also be joined by Hannah Grene from Barncat Consulting, who is working with us to develop DFI's new three-year Advocacy Strategy. Please join us for what we hope will be an interesting and productive meeting.
Drop fleachta@disability-federation.ie a line if you're interested in learning more about this member space and getting involved
Poverty Update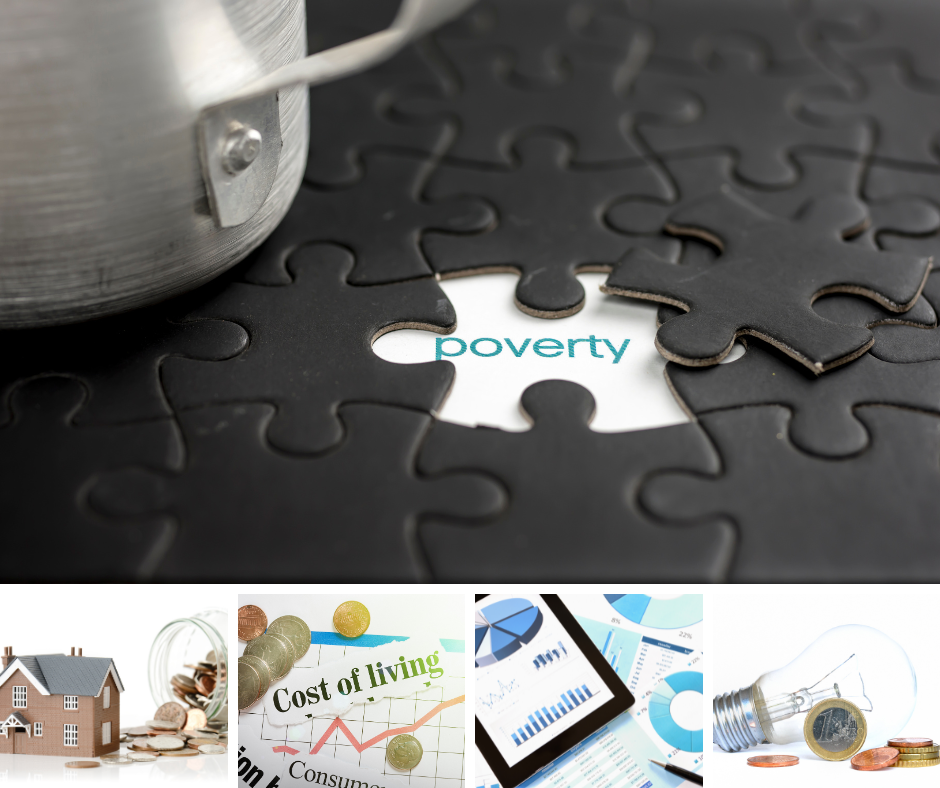 We have the following updates for you in relation to our ongoing advocacy on poverty and disability:
Disability Consultative Forum with Department of Social Protection
We attended the first quarterly Disability Consultative Forum of the year, convened by the Department of Social Protection, last month. A number of the officials in the disability unit have changed so the meeting was mostly introductory and some operational updates. We highlighted the recent SILC poverty data, cost of living pressures and energy poverty concerns, as well as a number of other issues. The Department reported that the Reasonable Accommodation Fund report is very close to being completed and should be published and progressed in the coming months. The 'strawman' proposal for the restructuring of long-term disability payments is also a priority and may apparently be published by mid-May according to a recent reply to a parliamentary question by Minister Humphreys.
Friends of the Earth report on Energy Poverty highlights disability concerns
Friends of the Earth recently published a report titled "Still left out in the cold" which looks at the government's policy response to energy poverty. DFI was delighted to be one of the 32 experts who were interviewed for the report last Autumn, and we highlighted issues related to cost of disability, higher energy usage and disproportionately high poverty rates. The report unpacks how current climate, housing and social protection policies go some way in protecting vulnerable households, but are ultimately failing to address the root causes of energy deprivation. It also includes an assessment of recent housing, energy and climate policy, including the Government's new Energy Poverty Action Plan and the latest Climate Action Plan. The report mentions disability a number of times, and will thus be useful in all of our ongoing advocacy. You can find out more here.
EAPN Briefing on 2022 Poverty Data
EAPN, which DFI is a member of, have released their Briefing on the 2022 CSO Income and Poverty Data. The data shows poverty and inequality levels increased between 2021 and 2022, and people are facing even greater challenges in making ends meet. The briefing highlights concerns that those unable to work due to long-standing health problems (disability) continue to experience higher levels of poverty. It breaks down the key figures and findings on income, poverty, and inequality in Ireland, and the groups most impacted. It also outlines the crucial measures the Government must take to effectively tackle the root causes of poverty.
Please contact fleachta@disability-federation.ie if you have any queries in relation to the above.
Social Inclusion Forum 2023: Take part to highlight disability issues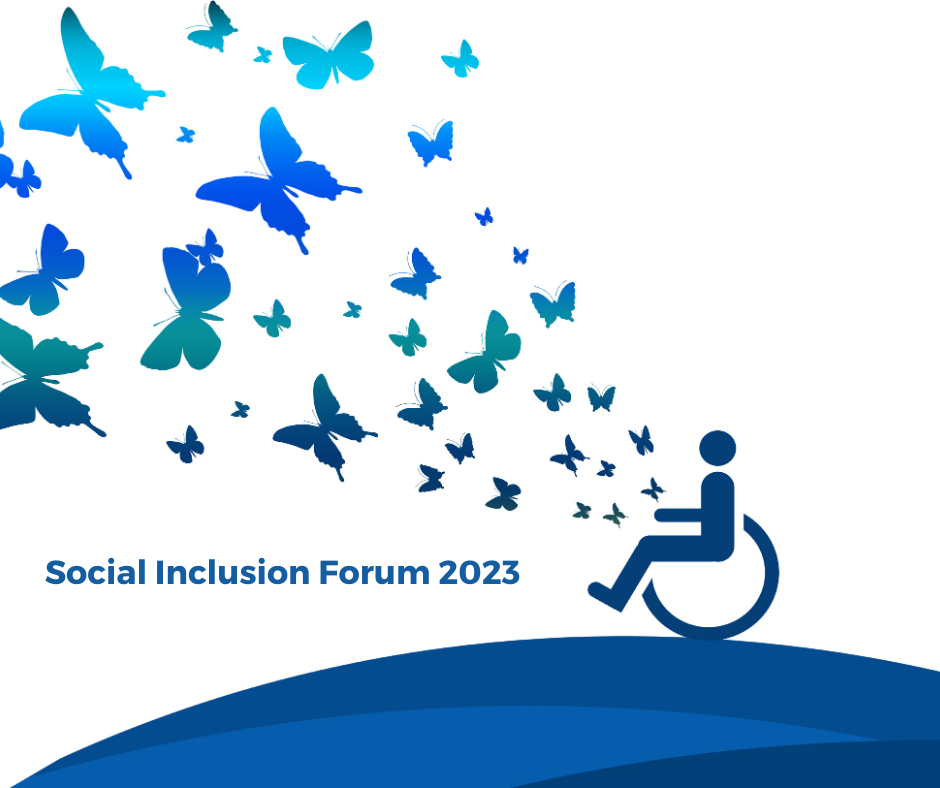 Registration is now open for the Preparatory Workshops for the Social Inclusion Forum (SIF) 2023, hosted by Community Work Ireland (CWI) and the European Anti-Poverty Network (EAPN) Ireland.
The Social Inclusion Forum 2023 will be held on Thursday 1 June in the Radisson Blu Hotel, Golden Lane, Dublin 8. It is one of the structures that supports the development and implementation of policy to address poverty and social exclusion in Ireland. SIF 2023 provides an important opportunity to discuss the outcome of the midterm review of the Roadmap for Social Inclusion 2020-2025, and to engage with key issues for people experiencing poverty and their representative organisations.
Each workshop provides an overview of the Roadmap for Social Inclusion and the workshop themes, and provides the opportunity for civil society, communities and stakeholders to discuss key issues relevant to people experiencing poverty and their representative organisations. Feedback from the workshops will be presented to the opening Plenary of SIF 2023.
The theme of SIF 2023 is Revitalising the Roadmap: Progress and Priorities, and it will focus on four key areas: Children, Older People, Employment and Core Essentials (income adequacy, energy & food poverty).
EAPN Ireland and CWI would like to encourage people with direct experience of issues that emerge from the workshops to participate in person at SIF 2023. A small budget is available to support the participation costs of a number of participants in the workshops from unfunded or under-funded groups and unwaged individuals to attend SIF 2023. Further information will be available at the workshops.
Workshop details:
DFI attends the launch of the Dialogue Forum's Partnership Principles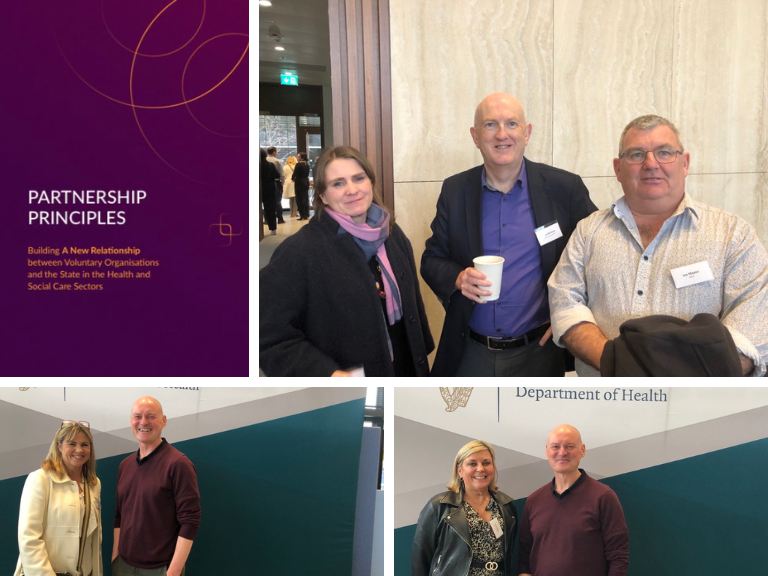 DFI was delighted to attend the launch of the Dialogue Forum Partnership Principles in Dublin on 3 April.
The principles were launched in the Department of Health in the presence of members of the Dialogue Forum, the chair of the Forum Peter Cassells and the Minister for Health Stephen Donnelly. The launch also featured a panel discussion with Bernard Gloster, CEO of the HSE; Nicola Byrne, CEO of Shine and Member of Mental Health Reform; Muiris O'Connor, Assistant Secretary at the Department of Health; Michael Hennessy, CEO of the Brothers of Charity Services Ireland; and, Lucy Nugent, CEO of Tallaght University Hospital.
DFI has been part of the Dialogue Forum since its inception and we very much welcome the Partnership Principles as an essential first step in bringing about a cultural change in the relationship between the health services and the voluntary sector. We look forward to seeing the application of the Partnership Principles in the development of the new Regional Health Areas. We also welcome the fact that the Partnership Principles give full recognition to the hybrid nature of our health services where voluntary organisations play an essential role.
We invite you to read the Partnership Principles and the case study findings and pay particular attention to the recommendations.
Click here to view the case study findings presented at the launch.
Click here to read the Partnership Principles.
Pictured above in the photo collage are:
Dr Emer Begley DFI, Fran Brennan, CEO of Polio Ireland and Chair of DFI's Board and Joe Mason of WALK. [top photo]
Allen Dunne of DFI is also pictured with Alison McCallion, Interim CEO of CRC [bottom left] and Fiona Bolger, CEO of Spinal Injuries Ireland [bottom right].
Minister Joe O'Brien announces publication of Ireland's National Action Plan Against Racism 2023-2027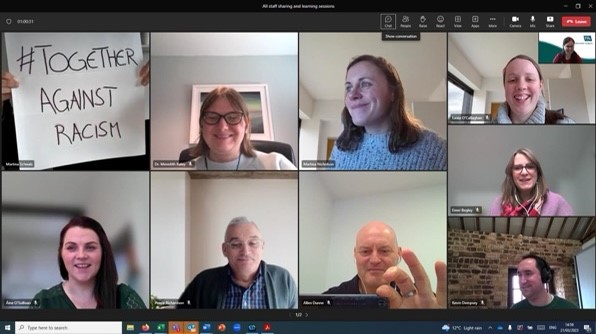 DFI welcomed the publication on 21 March of the National Action Plan Against Racism (NAPAR) 2023-2027 by the Minister of State for Community Development, Integration and Charities, Joe O'Brien.
The NAPAR was developed by an independent Anti-Racism Committee. An implementation plan for the first year has also been agreed. One million euro funding has been made available for anti-racism initiatives.
Speaking at the launch, Minister Joe O'Brien said, "The actions in the plan aim to create a more inclusive Ireland, where everyone feels safe to live their own lives. Implementation of the plan will be led by government departments, local authorities and agencies, and work is already underway, with a number of actions already being implemented. The plan proposes tangible ways in which we can all make a difference in our society, and I will be encouraging my colleagues to embrace it."
Click here for more information on the NAPAR.
The photo above is of DFI staff marking the recent #TogetherAgainstRacism day on 21 March.
Join our first CHAT (Community Hub for Assistive Technology) event for 2023 on 24 May

FreedomTech is delighted to partner with Childvision to host our first hybrid CHAT (Community Hub for Assistive Technology) in 2023. The event will take place on Thursday 24 May in Childvision.ie, Gracepark Road, Drumcondra, Dublin, D09 WKOH as part of their TechFest being held on 24 and 25 May.
For further details on CHAT, contact Sarah@freedomtech.ie.
To find out more about TechFest, contact Anne Marie or Raymond at Childvision.
Fifth European Parliament of Persons with Disabilities – introducing the delegation

As one of the national members of the European Disability Forum (EDF), DFI will be leading a delegation to the Fifth European Parliament of Persons with Disabilities taking place in Brussels on Tuesday 23 May.
We are very grateful to you for sharing our call for delegates which we issued and we are delighted to introduce you to the delegation which will be led by DFI CEO John Dolan.
The delegation is a strong and committed team of disabled persons with diverse perspectives and lived experience who will engage with their disabled colleagues from all member states. Here they are:
Carolyn Akintola, self-advocate from Dublin.
Paul Alford is a self-advocate who has worked for Inclusion Ireland for 18 years. Paul lives in Navan.

Fintan Bray,

Down Syndrome Ireland.

Adrian Carroll, AsIAm, Ireland's National Autism Charity. He is from Killarney, Co. Kerry,
Joan Carthy, Irish Wheelchair Association.
James Cawley, self-advocate from Longford.

Macrine Clancy,

Cathaoirleach of the Board of Polio Survivors Ireland.
Catherine Cooper, disability activist and advocate attached to the CRC in Dublin.
Lorraine Duffy is a self-advocate from Galway who lives with an acquired brain injury.
Padraig Hannafin,

Public Affairs Research Administrator for the Rehab Group in Ireland.

Jeanne McDonagh, CEO of the Open Doors Initiative.
Aoife Price is a disabled researcher, academic, and activist from Waterford.
We look forward to bringing you more updates as we get closer to the event in May.
DFI attends European Disability Forum AGM and Conference on Artifical Intelligence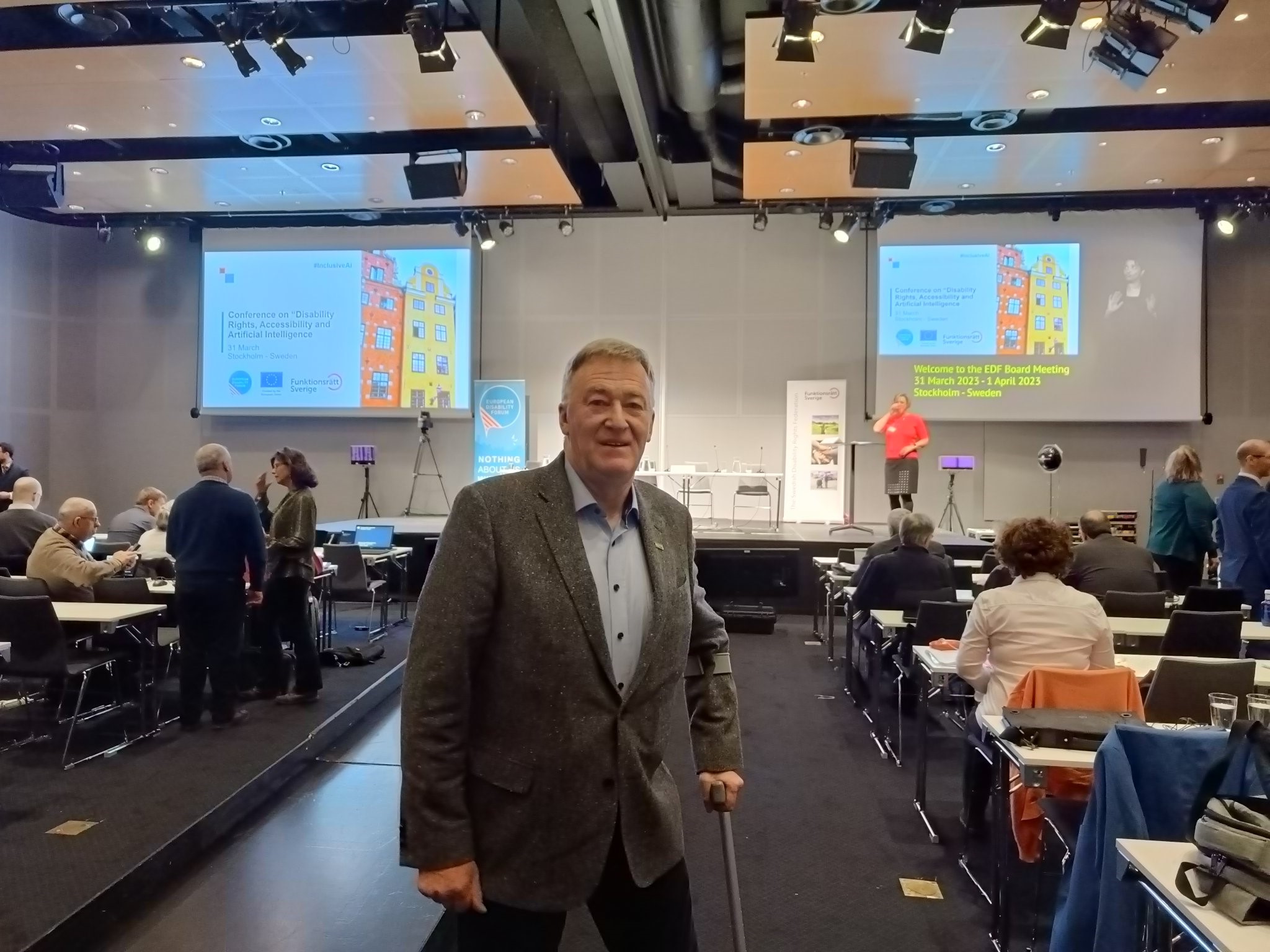 DFI's John Dolan and Dr Emer Begley attended the European Disability Forum's AGM and Conference which looked at the issue of Inclusive Artifical Intelligence (AI).
At the AGM, the Board approved a resolution on the EU Act relating to AI, welcomed four new members, discussed the Fifth Eu Disability Parliament on 23 May and discussed engagement with the UN CRPD.
The resolution adopted on the AI Act sees the EDF call for accessible, affordable and available technologies which are in line with UN CRPD. The EDF resolution also calls for recognition of the disproportionate risk to the rights of persons with disabilities with the AI system used in some areas.
You can read more about the AGM here and the AI conference here.
The Right to Work – Launch of European Disability Forum's Human Rights Report on 27 April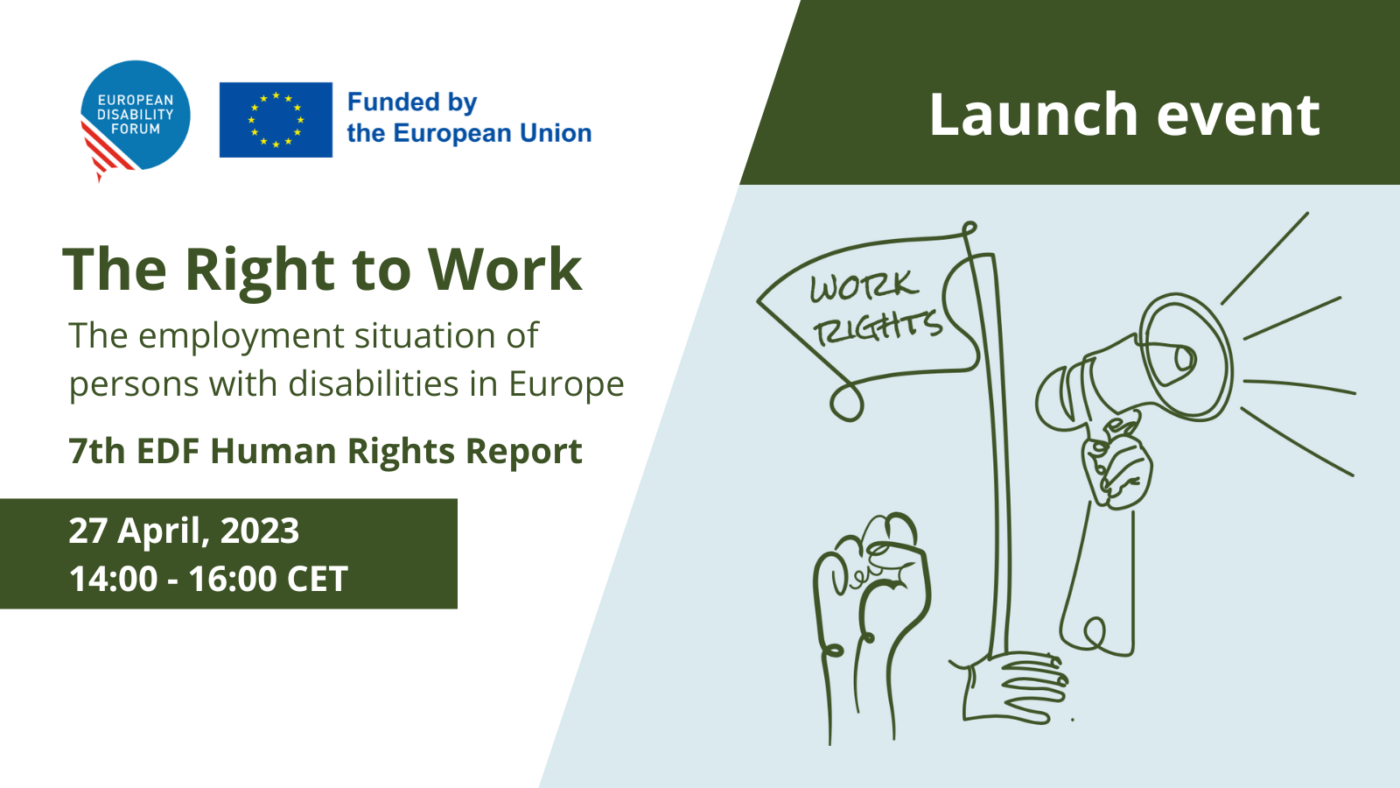 The European Disability Forum (EDF) will launch its 7th Annual Human Rights Report on 27 April.
This report will focus on employment and the right to work for persons with disabilities in the EU and will share the latest research findings including date and national comparisons in the EU regarding the main issues persons with disabilities face in the labour market.
Click here for the full agenda.
The launch event will also hear directly from people who have experienced these barriers to better understand their personal experiences.
This event will provide International sign interpretation and real-time captioning in English.
Episode Two of the DFI's new podcast on access and accessibility – this went last issue ??????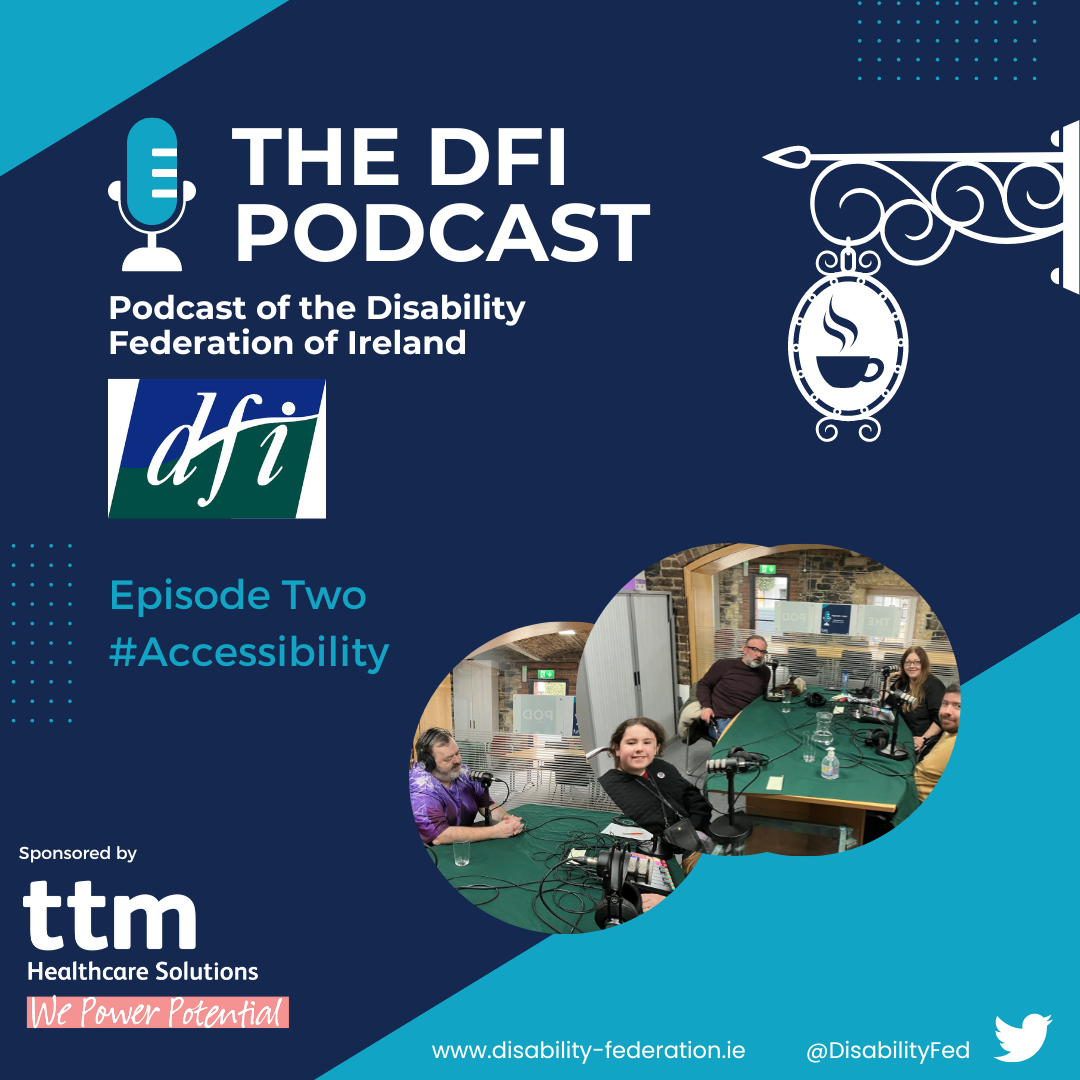 Episode Two of The DFI Podcast focuses on the issue of Access and accessibility for disabled people in the built environment. We hear from activists Gary Kearney, Bernard and Sophia Mulvany and from Sean O'Kelly. You can listen to the latest episode here.
DFI is delighted to be partnering with TTM Healthcare Solutions on this project.
Click here to subscribe to the The DFI Podcast on Spotify.
DFI to host a podcasting workshop for Member Organisations
DFI will be hosting a podcasting workshop in May for member organisations interested in creating their own podcast series or some one-off episodes to support your campaigns.
This will be an in-person event with places limited to 12.
If you would like to avail of the Podcasting Workshop please have the relevant person in your organisation email brendadrumm@disability-federation.ie for more information.
For more on all of the content featured in our newsletter see www.disability-federation.ie.
If you have been sent this newsletter please subscribe directly to future issues here
Copyright © 2023 Disability Federation of Ireland, All rights reserved.
Disability Federation of Ireland (DFI) is the national support organisation for voluntary disability organisations in Ireland who provide services to people with disabilities and disabling conditions.
Disability Federation of Ireland, Fumbally Court, Fumbally Lane, Dublin 8. Telephone: 01 4547978, Email: info@disability-federation.ie, Web: www.disability-federation.ie
Disability Federation of Ireland, is a company limited by guarantee not having share capital, registered in Dublin, Ireland with offices at Fumbally Court, Fumablly Lane, Dublin 8. Registration Number 140948, CHY No 6177
Click here to unsubscribe or to change your Subscription Preferences.
Post Disclaimer
We try to bring you news items that may be of interest to our readers. And while Cork CIL makes every reasonable effort to provide information that is as comprehensive, accurate and clear as possible, the information provided on this site is of a general nature. The news and stories shared on this page are often from third party organisations. The ideas and opinions expressed in these articles are those of the original authors and are not necessarily shared or promoted by Cork CIL. Responses to articles and queries about third party information should be addressed to the original author.