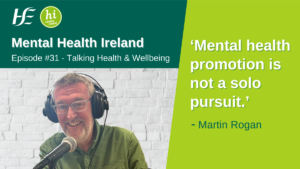 Mental Health Ireland
In this episode of the HSE Talking Health and Wellbeing podcast, host Fergal Fox talks to Martin Rogan, the CEO of Mental Health Ireland. They discuss the organisation's work in promoting mental health and wellbeing, the importance of collaboration and understanding in mental health promotion, and the impact of the COVID-19 pandemic on mental health. Martin emphasises the need for a holistic approach to mental health and highlights the fundamental role of parenting. He tells us about the coproduction model utilised by Mental Health Ireland and the priority of engaging with people with lived experience of mental health, to inform all their developments.
He also shares his insights into successful mental health promotion research and models implemented in other countries. Martin is also working with the Department of Health on their Mental Health Promotion Plan and shares his insights into that work. It all makes for an uplifting and engaging conversation about mental wellbeing. For information on Mental Health Ireland go to their website: www.mentalhealthireland.ie and for a full range of information and advice about your mental health and wellbeing, including mental health issues, coping with difficult situations and helping someone else go to www.yourmentalhealth.ie on the HSE website.Listen and follow wherever you get your Podcasts or on the HSE Health and Wellbeing YouTube channel.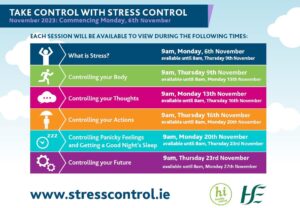 HSE Stress Control Programme
The HSE Stress Control programme commenced Monday 6th November at 8am, with 6 CBT based sessions. This programme will help participants recognise stressors and signs of stress in their own lives, learn about the cognitive components of stress, and the effect stress can have on thoughts, behaviour and the body. It will teach you great skills to fight stress (for most of us, a mix of anxiety and depression) and boost your wellbeing through various relaxation methods to reduce stress. To find out more visit https://stresscontrol.ie/
Post Disclaimer
We try to bring you news items that may be of interest to our readers. And while Cork CIL makes every reasonable effort to provide information that is as comprehensive, accurate and clear as possible, the information provided on this site is of a general nature. The news and stories shared on this page are often from third party organisations. The ideas and opinions expressed in these articles are those of the original authors and are not necessarily shared or promoted by Cork CIL. Responses to articles and queries about third party information should be addressed to the original author.